Welcome to Festival Zone for September 2018.
'Aotearoa in Tokyo' opens in Japan

'Aotearoa in Tokyo' opening evening 2018
The Auckland Festival of Photography is delighted to announce a successful boutique opening event for the 2018 international 'Aotearoa in Tokyo' exhibition of Roberta Thornley, James K Lowe, Janet Lilo and Tokyo based NZ photographer, Tim Lambourne. It's a unique international New Zealand project in Japan, a 1st for the Festival and possibly for NZ artists presenting high quality contemporary work in a group show in Japan. Support for emerging, mid-career and major New Zealand photographers is one of the essential aims of the Festival.

The work of 4 artists - Roberta Thornley, James K Lowe, Janet Lilo and Tokyo based NZ photographer, Tim Lambourne are exhibited. The exhibition is on until 16th September, it's an important touch point for a Japanese audience & the creative conversation to be initiated by the choice of artists on show in Tokyo.
The artists' work is presented at the Tokyo Institute of Photography gallery for 2 weeks from 5 Sept to 16 Sept in the heart of central Tokyo.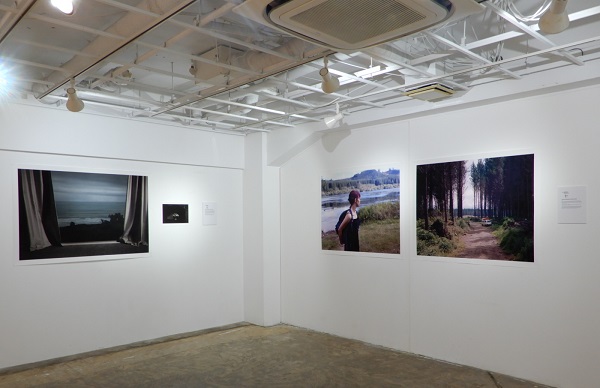 Presentation 'Ocean View' (2017) new work by Roberta Thornley and 'Years Fron Now II' and 'The Caller' (2012) by James K Lowe.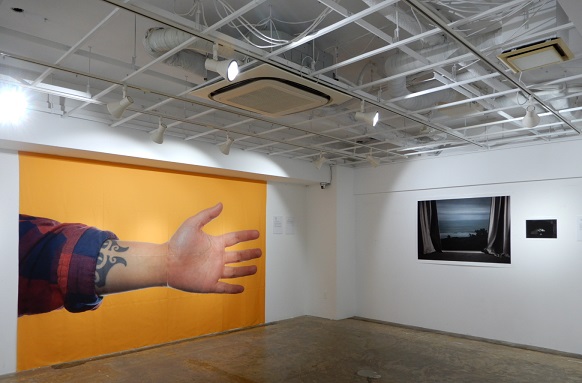 Presentation 'The Hand' (2017) by Janet Lilo and 'Ocean View' (2017) new work by Roberta Thornley.
---
Asia Pacific Photoforum

Chobi Mela - Shahidul Alam -#freeshahidulalam
Our esteemed colleague Chobi Mela International Photo Festival director, Shahidul Alam was arrested in early August by the Bangladeshi police - approx. 30 plain clothed, stormed his house, and dragged him in to a waiting vehicle whilst covering security CCTV cameras and removing any footage recorded of the arrest. He has been held and charged under a Information, Communications and Technology Act which appears to be fitted to any expression of criticism about the Govt - he faces up to 7 years in prison for giving voice to allegations and knowledge of concerns about bribery, corruption, disappearances, lack of political leadership by the Prime Minister in the student protests after 2 deaths by a speeding bus on Dhaka's very dangerous and chaotic streets. The police describing this interview as 'provocative comments' after Shahidul's Al Jazeera interview was broadcast during a news programme about Govt crackdown on protesters.
See interview here - Al Jazeera report
Since then there has been international condemnation of the abduction and detention and alleged physical abuse of Shahidul by his Govt's police. British MP's, Nobel Peace prize winners, artists, writers, actors, along with Amnesty International, UN Human Rights, National Geographic plus many other NGO's and arts organisations have called an international call for his immediate release. We ask you sign the online petitions or write to your local MP and MFAT and ask them what they can do to protest at the highest levels of power in the Bangladeshi authorities.
Time.com + how to support this international call for the end of the detention of award winning photographer, curator, activist Shahidul Alam who many of you will remember from his curation of the 'Identity' theme at our 2017 Festival, hear Shahidul, with Janet Lilo and Chris Corson-Scott on RNZ last May.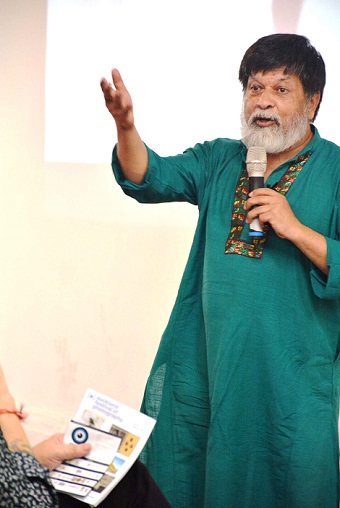 Minister of Home Affairs , Asaduzzaman Khan Kamal
Email: minister@mha.gov.bd
Salutation: Honourable Home Minister
Inspector General of Police
Mohammad Javed Patwary
Email: ig@police.gov.bd
Salutation: Dear Inspector General
And copies to: Political Affairs Advisor to Bangladesh
Prime Minister H.T. Imam
E-mail: advimam@pmo.gov.bd;
Then send copies to diplomatic representatives accredited to our country namely at the New Zealand High Commission, New Delhi, India.
---
Singapore International Photo Festival - Ann Shelton
Our partners in Singapore open their 6th edition, in a high quality curated programme across the city, featuring Open Call, international, and Satellite programme of exhibitions, public, school and professional events, plus this year's Photobook shortlist includes the work of Ann Shelton, who has been selected for a 'Spoon Full of Sugar'. Congratulations to Ann.
---
Shimmer Photographic Biennale 2018
The next edition of the biennale, Shimmer, run by the City of Okaparinga in South Australia is starting next week on 14th September. For full programme on the exhibitions, events and projects see this page to download.

---
Kuala Lumpur International Photo Awards, Malaysia
After the Festival showcase of the earlier KLPA Award winners in June at the Bruce Mason Centre, along with the attendance of KLPA founder and director Steven V Lee at our Talking Culture, we are delighted to announce the 10th anniversary edition of the KLPA Award winners exhibition starts this Saturday 8th September in Malaysia.
For full details of the 2018 Award winning photographs, including the 2018 Grand Prize winner - Lucia Herrero, Spain with his wonderful series 'Reindeer Man', see below.