Welcome to Festival Zone for August 2015.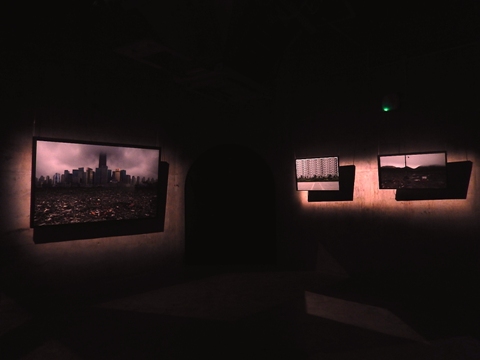 PJ Paterson - Annual Commission by Sacred Hill at Silo 6
---
Annual Commission 2015 - P J Paterson heads to Pingyao

We are delighted to announce that PJ Paterson will be attending the Pingyao International Photo Festival in China in September to present his Annual Commission exhibition.
This is the first time an artist has been able to develop work for the Annual Commission with the dual presentation of the new work in our Auckland Festival exhibition, followed by the September presentation at Pingyao. This has been made possible by the support of the Asia Co-commissioning Fund at Creative New Zealand. Both PJ and the Festival Trust would like to thank CNZ for their support this year. Thanks to Pingyao International Photo Festival, China for their hosting of PJ and his work.
The Festival is an official partner to the Pingyao Festival since 2010 and has had a cultural exchange with the world's largest photography Festival through exhibition, portfolio reviews and talks since 2012. As part of the 2015 Festival delegation to Pingyao, both Festival Director, Julia Durkin and Festival trustee, Jim He, ONZM will be attending the September event. Thanks to Creative New Zealand for their assistance with this opportunity to be present at the world's largest photography festival.
---
Lou Stoumen Prize for Photography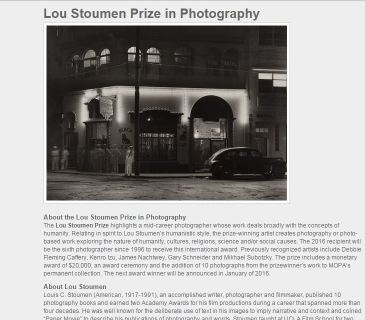 About the Lou Stoumen Prize in Photography
The Lou Stoumen Prize highlights a mid-career photographer whose work deals broadly with the concepts of humanity. Relating in spirit to Lou Stoumen's humanistic style, the prize-winning artist creates photography or photo-based work exploring the nature of humanity, cultures, religions, science and/or social causes. The 2016 recipient will be the sixth photographer since 1996 to receive this international award. Previously recognized artists include Debbie Fleming Caffery, Kenro Izu, James Nachtwey, Gary Schneider and Mikhael Subotzky. The prize includes a monetary award of $20,000, an award ceremony and the addition of 10 photographs from the prizewinner's work to MOPA's permanent collection. The next award winner will be announced in January of 2016. Auckland Festival of Photography director, Julia Durkin, has been invited to be a nominator for this esteemed international photography prize, the Lou Stoumen prize is organised through the Museum of Photographic Arts, San Diego, California, USA. Shortlist is announced at the end of August 2015. More on the MOPA here.
---
Asia Pacific Photoforum 2015

Full calendar of Festival events on APP website. More on the Asia Pacific Photoforum can be found on our Facebook page, like us and keep up to date. Follow us on Twitter too!
So as we head into the first few days of August, dont forget to start planning your visits to our partner Festivals in Japan, Malaysia and Australia in August. At Higashikawa Intl Photo Festival you can enjoy the best of Japanese photography, whilst also celebrating the wonderful achievement of NZ photographer Anne Noble, ONZM, who is the recipient of the 31st Higashikawa Overseas Photography Award at this year's Hokkaido event. Anne Noble is Distinguished Professor of Fine Arts at Massey University, Wellington and one of New Zealand's most respected contemporary photographers. Also at Higashikawa we will be presenting on the Auckland Festival of Photography, Auckland Photo Day, our Annual Commission 2011-2015 and the founding of the Asia Pacific Photoforum as part of a keynote talk.
Over in Penang in Malaysia at Obscura Festival of Photography there are several excellent Masterclass & Workshops happening with leading artists like Maggie Steber and Ian Teh, plus all sorts of great exhibitions and events on offer, see their website here for more details. Obscura runs from 14 - 22 August 2015.
Then for those wanting to stay closer to home, book to go to Ballarat International Foto Biennale where you can have a workshop with Stephen Dupont, plus others and see some great international photography exhibitions, starting 22 August - see more details on whats on offer on the BIFB website. We wish all our APP partners successful Festivals in the weeks ahead.
---
Auckland Photo Blog - August
Open now to 31st August, 9 entries per photographer. See terms and conditions on our website. Later in the year we will be announcing a new initiative for the Auckland Photo Blog to encourage more youth participation. Dont forget to send in your photos of what you have been doing in Auckland this August, it's an open theme.
Full display of Photo of The Month since 2006.