Welcome to Festival Zone for closing week of Festival 2016. We are delighted to announce the 1st, 2nd and 3rd prize winners and Top 30 for the 2016 Nikon Auckland Photo Day. And the inaugural Moving Image prize winner.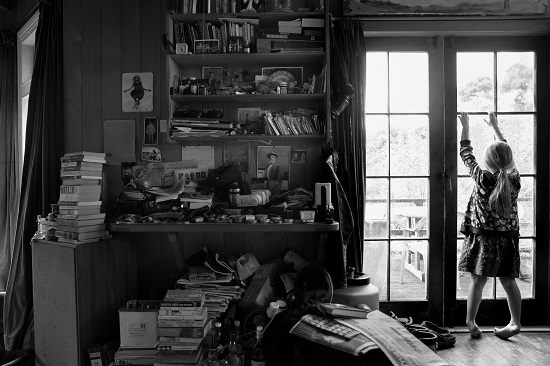 Pop's Desk by photographer Sylvie Whinray, Swanson - First prize, a Nikon D5500, a DX-format camera packed into a compact and lightweight frame, paired with a versatile Nikkor 18-55mm lens.
Judges' comment: "The black and white 'home' image shows the complex nature of childhood, and opens the discussion of the value of the grandfather's memories, which is shown by the child's attention being away from the desk and on the light of the day beckoning through the window on a rainy winter's day."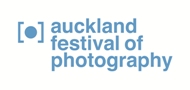 ---
Nikon Auckland Photo Day 2016

The winners of 2016's Nikon Auckland Photo Day have been decided:
The judges sifted through more than 1000 entries for this year's 24-hour day in the life of Auckland competition, held on Saturday 11 June. The entries add to a unique archive of more than 12,000 images taken of Auckland since the competition began in 2004. This year's competition – which included a new, moving image category for the best short film, video, time-lapse or multimedia entry – was judged by photographer James K Lowe; Greg Olesen, for Nikon NZ; and photographer Mareea Vegas – who won Nikon Auckland Photo Day 2011. Thanks to the nearly 300 photographers, ranging from school students, University students, amatuer shooters, to professional photojournalists who took part this year in the competition.
"Nikon are very proud to be a key sponsor of such a great Festival that celebrates community and photography and such high calibre work from Aucklanders," says Andrew Graham, Nikon NZ Product Manager, Lacklands. "Nikon are very pleased that, once again, Aucklanders have embraced the opportunity to create new images of the scenes, people and places that reflect their region."
Pop's Desk by photographer Sylvie Whinray, Swanson - First prize (above). Sylvie says '"This picture is about my father, the passing of time and the generations of our family. All those items on my father's desk mean something to him, or served a practical use, and have been accumulating for about 30 years"
Maria Hyun, Takapuna wins Second prize, a Nikon D3300 a sharp shooting compact DX-format DSLR, paired with a Nikkor 18-55mm lens.
Judges' comment: "Multiple layers to this image, depth, shadowing, and nicely silhouetted, classic Saturday early morning captured with lighting in the foreground of the golfers on the green".
Maria has been a Waitemata Golf Club member for ten years and took her winning image early on the morning of June 11. Second prize: Maria Hyun  - Early Morning on the Waitemata Golf Course (below)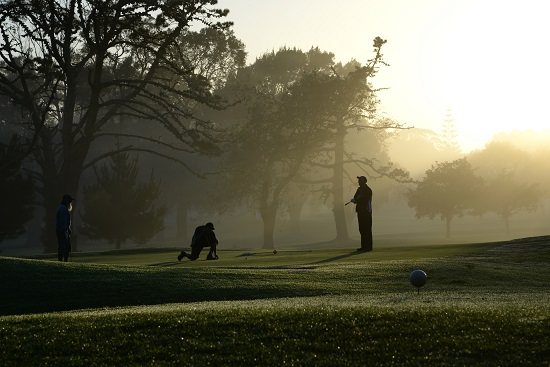 Washing Day by freelance travel and photojournalist Rafael Ben-Ari wins third prize, a Nikon 1 J5, with extreme portability, style and imaging power, with a compact 1 Nikkor 10-33mm lens.
Judges' comment: "The 3rd prize-winning image shows the juxtaposition of the 'happy pegs' against the grey of the Sky Tower and sky, a narrative about apartment living by new city dwellers who are trying to get washing dry in changing weather conditions on the day".
Rafael was a war photographer in Israel before settling in New Zealand, moving to live in central Auckland 10 months ago.
Moving image winner: Angela Asuncion - The Last Night
The Last Night by Angela Rose Asuncion, wins the Moving Image prize, a Nikon Coolpix AW130, waterproof, shockproof, dust and cold resistant, built in WiFi. Watch it on our Facebook page later today. Judges' comment: "The stand out entry, using poetry and moving image to tell a tale of young love on the late night bus ride home on the 267 service after breaking up of a brief romance."
The announcement of Nikon Auckland Photo Day winners marks the close of 2016's festival, which featured more than 100 exhibitions and events, including a display of winning entries from 11 years of competitions in The Cloud this month.
This year's winners will be presented their prizes at The Cloud this week, with the 'People's Choice' winner decided by online voting at http://www.photographyfestival.org.nz/photo-day/peoples-choice/index.cfm
Voting for the People's Choice closes on Tuesday 28th June at 5pm. Winner announced in July. Vote for your favourite now.

---
Festival closing weekend

Last day for Festival 2016, there's still loads to see over this weekend, so check out our programme, for exhibitions, in the 'Home' theme, like Janet Lilo's Status Update at Te Uru, not forgetting outdoor at the waterfront is James Voller's work 'Coming Back Home', and still on at Gus Fisher Gallery is Laurence Aberhart's 'Celebrating Wood'. Signature shows by Bridget Reweti at Corbans Estate Arts Centre, Chris Corson-Scott is at Trish Clark Gallery, and not to be missed is the wonderful new work by Magnum Photographer, Trent Parke at Two Rooms. Plus David Lloyd's, wildlife photography show out in Howick, at Monterey Art Gallery last day tomorrow, then out at Te Tuhi is The Non Living Agent. Plus lots of great Fringe exhibitions across Auckland. All free to attend. Dont miss all these! See all here, plan your weekend. More shows are continuing on after today's offcial end to the Festival, see our calendar for full details of the shows that are on this weekend.
---
Asia Pacific Photoforum
Starting next in the Asia Pacific Photoforum network, is our Japanese partner Festival in Higashikawa, with this year's overseas award going to Colombian photographer, Oscar Muñoz, along with awards given to Japanese artists Taishi Hirokawa, Yoko Ikeda, Yoshimi Ikemoto plus special award to Michael Kenna for his ongoing work photographing Hokkaido. This is the 32nd annual Festival in the town Higashikawa, Hokkaido, it's a great event and has dozens of activities and a International High School Photography Festival run alongside. Organizer, The Town of Photography, Higashikawa. Full details here, starts 30 July, book your tickets now.

Higashikawa International Photo Festival 2015 Ribbon Cutting Ceremony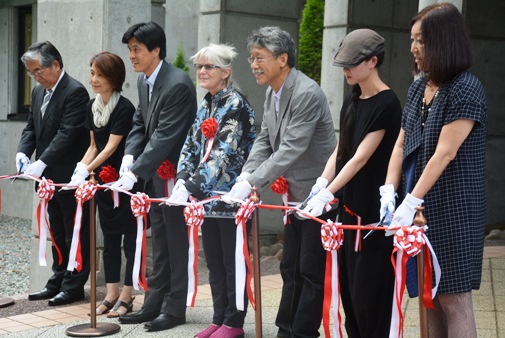 And over in Malaysia our partners in Penang have revealed the recipients of the new SOUTHEAST ASIAN PHOTOGRAPHY MASTERCLASS SCHOLARSHIP, OBSCURA 2016 with Jörg Brüggemann & Tobias Kruse.  OBSCURA Festival of Photography starts 17 August untul 26 August in Penang, Malaysia. Workshop with VII Photo Agency photojournalist, Sim Chi Yin will be available for 10 lucky participants, this is a wonderful opportunity to work with a rising talent in the world of international photojournalism, member of VII Photo Agency, a World Press Photo judge in 2016, Sim Chi Yin was also an exhibiting photographer in this year's Auckland Festival of Photography. Hear Sim Chi Yin talk to Radio New Zealand about her award winning series 'The Rat Tribe".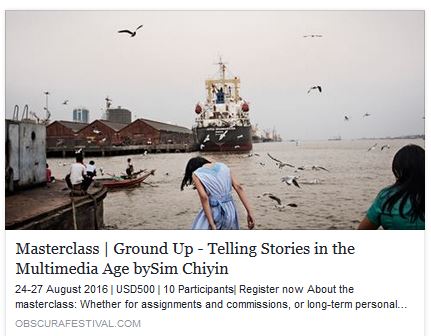 ---
Donations to the Festival Trust

If you are enjoying this year's Festival and would like to make a "gold coin" donation towards our ongoing sustainability, these donations get used to help cover exhibition costs such as printing, promotion, hire costs and some administration - please consider making a one off or monthly donation.
All donations to our registered charitable trust are eligible for a tax credit of 33% through the IRD donee status. If you would like to donate now you can do this easily and quickly via Give A Little on our page.