Welcome to Festival Zone for August 2016. Auckland Festival of Photography would like announce our new exhibition 'Ata Te Tangata' is being presented at the Pingyao International Photo Festival, China, 19 - 25 Sept 2016.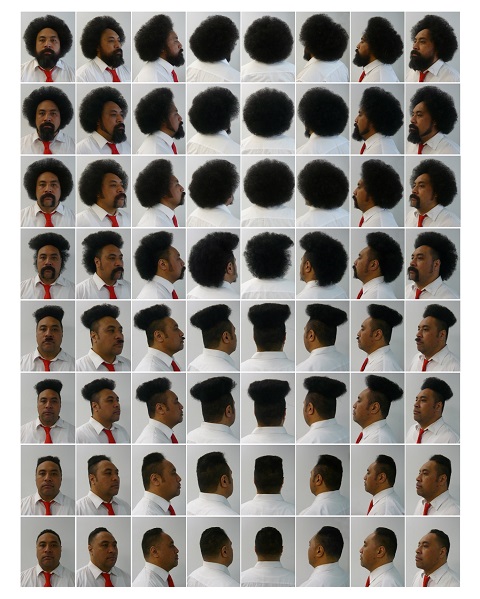 Siliga Setoga - Oki fa'a kama Samoa moni lou ulu

---
Ata Te Tangata exhibition heads to China

An Auckland Festival of Photography [AFP] exhibition of work by photographers of Maori and Pacific heritage is expected to make a major impact at next month's Pingyao International Photography Festival in China. Ata Te Tangata, curated by Rosanna Raymond, will feature at Pingyao between 19 and 25 September, before showing as a core element of next year's Auckland Festival of Photography 2017.
Ata Te Tangata is a survey show that focuses on current practice by photographers of Maori and Pacific descent from Aotearoa New Zealand. Their images tell a multitude of stories, bringing to light the people and landscapes of a contemporary Polynesian experience unique to Aotearoa New Zealand. Ata Te Tangata features works by a 'who's who' of contemporary Maori and Pacific photographers based here, including Siliga David Setoga, Terry Koloamatangi Klavenes, Tanu Gago, Ane Tonga, Grant Apiata, Linda T, Raymond Sagapolutele, Russ Flatt, Lisa Reihana, Emily Mafile'o, Pati Solomona Tyrell and Natalie Robertson.
"One of AFP's key objectives is to support emerging, mid-career and major New Zealand photographers," The Auckland Festival of Photography Trust says. "AFP is a founding member of the Asia Pacific Photoforum since 2010 and Ata Te Tangata was conceived and specifically curated for our official partners, the Pingyao International Photography Festival. After this international exposure, Ata Te Tangata will then be shown to Auckland audiences as part of 2017's festival of photography - and may yet tour elsewhere."
Ata Te Tangata curator Rosanna Raymond says the people and landscape of the Pacific have been viewed and constructed by the lens of the West since first contact.
"Photography played a huge part in contributing to the visual mythology that defined the Pacific body, the land and ocean. Ata Te Tangata redefines the gaze. The person behind the lens is genealogically and geographically a part of the community they are portraying. This allows for more nuanced representations, reflecting the world around them. These images tell a multitude of stories, bringing to light the people and landscapes of a contemporary Polynesian experience unique to Aotearoa New Zealand."
Rosanna Raymond is an artist, writer, performer and curator. Her artworks are held in museum and private collections around the world. During the past 20 years, Rosanna has forged a role as a producer and commentator on contemporary Pacific Islands culture, working in the visual arts realm and higher education institutions in Oceania, Britain and the United States. Rosanna is of Samoan descent and was born in Auckland, Aotearoa New Zealand. She co-founded the SaVAge K'lub collective and, in 2015, curated a major installation for the 8th Asia Pacific Triennial of Contemporary Art.
Research and development for Ata Te Tangata was supported by a Pacific Arts grant at Creative New Zealand.
Pingyao is the world's largest photography Festival and this is the fifth year the Auckland Festival of Photography has been engaged with their annual programme. AFP has worked on an international programme featuring emerging, mid-career New Zealand photographers in China since 2012.


---
Daylight Books - Tim J Veling feature

Proud to also announce the Festival has partnered with Daylight Books this year, to present to US based readers, our Festival's feature article on the work of Tim J Veling - People and Place. Tim J Veling is a documentary/fine arts photographer and artist's book maker living and working in Christchurch in the South Island of New Zealand.

This article is one of the 6 interviews on NZ photographers by our Festival projects curator, Elaine Smith, published in China in 2015 and is the first one to be re-published in the USA by Daylight Books. This is another milestone for our support of NZ photography internationally and is the 3rd project we have worked with Tim J Veling on since 2014, having also curated his work into an exhibition at Pingyao International Photography Festival, China; Angkor Photo Festival & Workshops and a feature article published in PhotoWorld, China in 2015.
---
Asia Pacific Photoforum
Starting next in the Asia Pacific Photoforum network, is our Malaysian partner Festival in Penang, Obscura Festival of Photography, 19 - 26 August.

We are delighted to work with our partner's at Obscura Festival of Photography in Malaysia to build and develop cultural exchanges through photography. It's also great for Auckland cultural tourism opportunities, as we partner not only one of the newest Festivals in Asia, but also in the world of photo Festivals. Lonely Planet has named Penang's Georgetown as the Top 4 places to visit in the world. Read the review here.

Sim Chi Yin, Masterclass workshop, join in - this month at Obscura Festival of Photography, Penang, Malaysia take a workshop 'Ground Up' with VII Photo Agency's award winning photojournalist, Sim Chi Yin. Her work 'The Rat Tribe' was part of the 'Home' theme in this year's Auckland Festival of Photography in June. Hear the Radio New Zealand interview with Sim Chi Yin during the June Festival in New Zealand.
Full bio and information about this unique opportunity to work alongside Sim Chi Yin is on Obscura's website. Dont miss one of Asia's leading female photojournalists.

As well as workshops, exhibitions, events, there is a strong line up of international guest speakers, such as Shahidul Alam, director of Chobi Mela, Bangladesh. More on this talk.

The Auckland Festival of Photography is a founding member of the Asia Pacific Photoforum - a regional grouping of international photography festivals across New Zealand, Australia, Asia and Pacific Rim. The Asia Pacific Photoforum seeks to further the presence of photography across the Asia Pacific region as a medium for artistic expression and truthful dissemination of ideas and information in an increasingly globalising world. Folow us on Facebook and Twitter.

---
Kaunas Photo Festival 2016

KAUNAS PHOTO, the longest-running annual photo art festival in the Baltics, since 2004. 13th edition main week from Sep 6 - 11, 2016.
Auckland Festival of Photography director, Julia Durkin will be attending this year and participating in the public programme from 7 Sept. More details on booking your Kaunas Portfolio Review at this year's event here.


---
Indian Photography Festival 2016

The Indian Photo Festival - Hyderabad (IPF) - takes place in Hyderabad, India from 29th September - 09th October 2016.
IPF - Hyderabad, is an international photography festival showcasing a wide range of photography across all genres from portraits and landscape through photojournalism to fine-art by emerging and established photographers from India and around the globe. The 2015 edition had 63 exhibitions by 176 photographers from 14 countries. The festival features Exhibitions, Panel Discussions, Artists Talks, Portfolio Reviews, and Photography Workshops & Book Launches.
We are pleased to announce that our international youth photography project, Future Projections, initiated by the Festival in 2013, has been accepted as part of the programme for 2016 in India. This is a great opportunity for the next generation of future artists from Auckland, NZ, Melbourne, Australia, Singapore and New York, USA to be shown in the 2nd edition of this growing photographic event.
Participating institutions include:
AUT, MIT, UCOL, Unitec and Whitecliffe in Auckland; RMIT in Australia, Nanyang Technological University in Singapore, curated by Assoc Professor Oh Soon-Hwa, Parsons - The New School of Design in the USA . Also showing is Breaking Boundaries V1, a selection of work curated from colleges across the USA by Susan Dooley.

---
Other News
Susan Bright at Auckland Art Gallery on 23rd August at 6pm - Free - Taking the format of the BBC Radio 4 show Desert Island Discs, Susan Bright's talk will take eight images that have influenced her thinking and approach to photography. This takes the form of a biographical journey illustrating how common themes and issues have been consistent in Bright's curating and writing about photography. In collaboration with Massey University and Tangent Collective.
Chris Leskovsek - There's No One Here
'There's no one here' is a collaboration between the photographer, Chris Leskovsek and the pianist, Marcos Meza.
This multimedia series represents an introspective journey, an adventure made by artists travelling the world, despite having parallel ways they give birth to a new concept, a reality that is only perceptible when you are moving onto an unknown place.
This series was conceived by Chilean photographer and designer, Chris Leskovsek during a long period of time, investigations and travels throughout New Zealand searching for longings. Leskovsek also commissioned an original soundtrack to pianist Marcos Meza to accompany this series. The end result, is a 7 piece instrumentals with a strong 'Trip-Hop' vibe and incidental orchestrations.
Harvey Benge Blogspot - For those moments of esoteric analysis of whats what in photography, follow this blogspot, Harvey is a photographer who lives in Auckland and Paris, according to his wikipedia text, 'Benge claims that his photography is inspired by anything that attracts his attention while walking in the city. Benge stated that "the most successful photography raises questions, offers something else to the viewer". Hear, hear. More about Harvey in this Q + A article. Harvey has extensively published work in books, conducted workshops and has exhibited both internationally and in New Zealand for 3 decades. He is one of NZ's most notable, established and enduring photographic artists. His website bio >.
Lens Culture Street Photography Awards - 2 weeks to go to enter. Just two weeks left to enter the 2nd annual LensCulture Street Photography Awards! This week Lens Culture are providing five top workshop opportunities from their free Essential Resources Guide to Street Photography 2016 as well as excellent advice from Magnum Photos nominee (and Street Photography Awards juror) Matt Stuart.