Welcome to Festival Zone for October 2018.
Auckland Festival of Photography 2019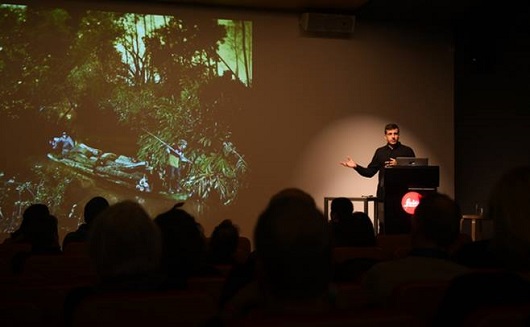 Alejandro Chaskielberg (Argentina) Talking Culture 2018
Festival dates - 31st May - 16th June 2019
Our Festival Trust are delighted to announce the dates for the 2019 edition, along with our plan to present more projections for the Festival next year and seek your proposals & registrations for the photography you want to share and show in 2019.
Theme 2019 - Fissure [pakaru/piere]
Delighted to announce the 6th annual Festival theme in 2019 is - Fissure [pakaru/piere].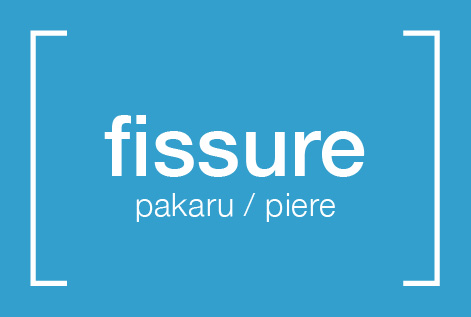 ---
Theme 2019 - Fissure [pakaru/piere]
What is Fissure?

Definition - 1. a narrow crevice or other opening, especially in rock or ice; 2. the process of splitting or dividing along a line; 3. a rift in a party or group, as in differing viewpoints in a political party
Usage Examples:
The earthquake caused a large fissure to open under the highway, making the road impassable. (gap, crack)
The harnessing of nuclear fission provides a source of power, as well as enormous destructive potential. (splitting of nuclei, nuclear reaction)
The land dispute created a fissure between the neighbors. (rift, strife, animosity)
The argument between the CEO and the President created a fissure in the company, causing the board members to take sides. (rift, discord)

(definition courtesy vocabulary-vocabulary.com/dictionary)
By invitation of the Auckland Festival of Photography Trust, as part of our ongoing development in presenting quality exhibition programmes for your enjoyment we will be pleased to share with you the news of our 4th international guest curator, in the coming weeks, who will be tasked with curating top quality projections at the Festival. Plus outdoor exhibitions at Silo Park on Wynyard Quarter, CBD, as well as across the region at the 2019 Festival. The theme is by invitation so if we think your work fits what we are trying to acheive and is high quality art, representative of international arts practice we will be in touch.
---
Taking Part 2019
With so many changes around the sector, we are pleased to confirm the Festival programme staples of the Annual Commission by Baker Douglas, Theme/Core exhibitions, an exhibiting Photographer Award, Satellite, Auckland Photo Day and Talking Culture will largely remain in tact, but we will be alternating elements of our programme next year, whilst also in 2019 introducing a new look boutique brochure.
Digital Screens Initiative
To deliver more captivating work around the Auckland region, we are introducing a new digital screens initiative to engage new audiences and show more New Zealand and international photography.
Call for digital screen submissions - deadline 1st March 2019
We seek independantly curated selections or solo shows that can be projected or presented via digital screens across the region. This is not for print shows.
The Festival Trust will continue to invite a range of work and support its inclusion in the annual Festival.
Satellite programme
Call for registrations - Satellite - deadline 21st February 2019
Satellite exhibition registrations are open across the region and we are delighted to introduce new online sections for these in 2019. The new exhibition groupings will be shown by - 1) Portraits 2) Landscape & Nature 3) Youth photography (under 20's) 4) Group shows, Clubs & Collectives, 5) Documentary and 6) Travel & Street.
Core exhibitions
Call for Core exhibition expressions of interest - deadline 15th February 2019
Professional gallery shows and established photography artists, both international and New Zealand based, are invited to submit for this exhibition series selected by the Festival team, plus in 2019 we are introducing a nominal Administration Fee for all Core shows once selected.
Examples 2018 Festival Core series here.



---
Your feedback - Festival survey

We recently sent out a 'Thumbnail Sketch 2019' survey to our key stakeholders to seek their views on the future options for the Auckland Festival of Photography. We wanted to gauge what our stakeholders would like to see us do and so along with our audience research from the Festival this year, using these results, which have been very supportive of what we plan to do, and we have started to craft and develop a new look Festival in 2019.
In order to best deliver a world class Festival to the region in 2019, we asked for input on our timing and structural plans. Over 97% of those surveyed had participated in the Festival once or annually, over 78% wanted a 3 week annual Festival and 74% stated participation with digital promotion only, whilst the 2 week duration option had about 20% support and the Bienalle 28% support, with survey responses coming from across the whole Auckland region. June was also the preferred month, with September, a strong second choice.
We'd like to thank everyone who has taken time to respond.