introduction - taking part
The next Auckland Festival of Photography will be held: 3rd - 20th June 2021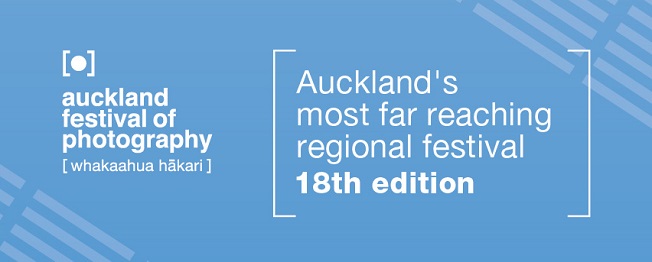 We are New Zealand's leading international photographic art & cultural Festival held across Auckland galleries, project + public spaces. We are open to programming any exhibition created through the medium of photography and encourage active participation from a broad spectrum of talent including professional, amateur and young photographers. We encourage festival participation from all levels of exhibitors including dealer galleries, private and public venues, individual artists and community groups. We aim to make festival participation as barrier free and inclusive as possible, in order to reflect and represent the diverse populace and points of view within Auckland.

Registrations + Submissions to take part in the 2021 Festival through our exhibition stream are now CLOSED. Please check back in Oct 2021 for Registration/Submission details for the 2022 edition of the festival - before completing a Registration/Submission we encourage you to visit our FAQ page. If we do not answer your question/s please Contact us by phone.

Auckland Festival of Photography team works all year round creating opportunities so that photographers from every genre can present their new work. You could consider taking part through Auckland Photo Day or Alex Mao Youth Award and of course experiencing the festival in June 2021.


---
Through our Registrations/Submissions we provide and maintain the platform, profile and network necessary to present you with the best opportunities to showcase photography in our annual Festival. Our exhibitors have the opportunity to join the Auckland Festival of Photography community and be part of a Festival that showcases both international and national artists at diverse stages of their careers. Read more about the Exhibitor Benefits.
During the festival dates exhibitions can take place anywhere across the Auckland Region, including but not limited to: Franklin, Papakura, Manukau, Waitakere, Auckland, North Shore, Rodney. Support for the annual Festival has grown significantly since its inception in 2004.
All timings/benefits offered are subject to change in the event of a Covid-19 outbreak during the key deadline period and or for the 2021 Festival dates.
Exhibit through Festival streams:
- Themed: by invitation
- Core: by selection and administration fee
- Digital Screens: by selection and administration fee
- Satellite: by registration (open access) and administration fee
---
The Auckland Festival of Photography endorses the Event Sector Voluntary COVID-19 Code
Please ensure the exhibition/project/event you are proposing to take place in the Festival complies with the COVID-19 code for event organisers.