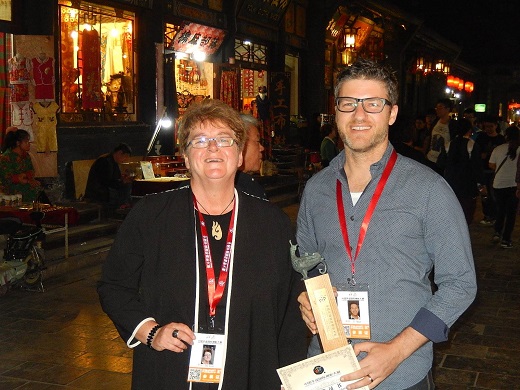 Julia Durkin, Festival founder & director with Annual Commission artist PJ Paterson, Award winner, Pingyao, China 2015
Julia Durkin, the founder and director of the annual Auckland Festival of Photography [AFP] has been awarded a Member of the New Zealand Order of Merit in the 2020 New Years' Honours.
Prime Minister Jacinda Ardern said the recipients were a diverse group of well-deserving Kiwis.
"It is a true reflection of New Zealand that the biggest category of recipients this year is for community, voluntary and local services. We are a country that values taking care of one another and it is fitting that these people are recognised for their efforts." (Abridged/NZ Herald)
Since it began in 2004, AFP has become Australasia's longest running annual photography festival, typically providing more than 100 exhibitions and events each June.
Ms Durkin says. "I'm humbled and delighted to receive this honour. It is a real privilege to be given such a significant national recognition of my work and of AFP's contribution to the photography community and cultural sector." For full details see - Julia Durkin; MNZM Award 2020. Or online at the DPMC, Department of Prime Minister and Cabinet.