People's Choice Winner of the 2020 Nikon Auckland Photo Day:
Online voting in the Nikon Auckland Photo Day People's Choice category has seen Argentinian Hernan Grabarnik's 'Wall of Shame' image win this year's competition with most valid votes. The photograph features the Black Lives Matter protest slogan, "No guns 4 pigs" and its selection coincides with Black Lives Matter protests internationally, including in New Zealand. Hernan says he is delighted this political protest image was supported by the judges in the Top 30 and has won the Nikon D5600 single lens camera prize by public vote.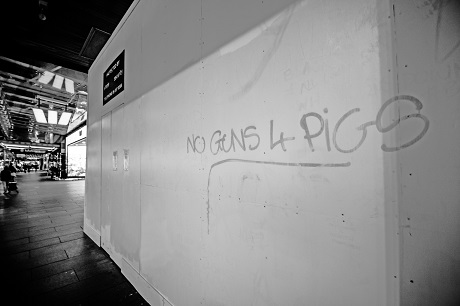 ---
Festival 2020 Outdoors on your walk or bike ride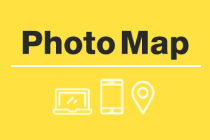 Download your Self Guided Tour 2020 information. Each Festival weekend take a walk through the city to see our outdoor exhibitions at Silo Park, Queens Wharf, Freyberg Place and Aotea Square from 530pm to 8pm. Starts 29 May.
Outdoor exhibitions - Simone Douglas, Unseen - Earth-Sky-Light, Silo Park, Werner Bischof, Unseen - USA series, Queens Wharf, Judith Crispin, The Dingo's Noctuary, Freyberg Place and Digital Live Screen in Aotea Square, Jeann Taris, France, Gestes Gitans, The Female Eye, 4 Australian photojournalists and more. Full programme here.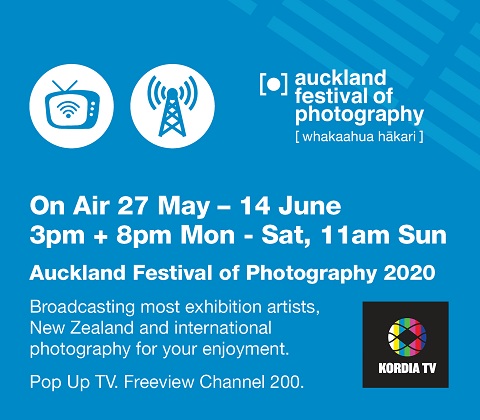 2020 Auckland Festival of Photography online and on air
Photography fans can enjoy 2020's Auckland Festival of Photography on Pop Up TV (Freeview Channel 200) or online at www.photographyfestival.org.nz from May 27 to June 15. DOWNLOAD FULL 2020 PROGRAMME.
"AFP will keep working with artists, photographers and galleries in the coming weeks to ensure that everything planned to present in a public exhibition space can now be offered on air or online," says AFP director Julia Durkin.
In another first, AFP 2020 is teaming up with the Sydney's Head On Photo Fest so that audiences on both sides of the Tasman can see top quality international work from the two festivals.
"AFP's core mission is to present photography to the public so we are delighted to announce our 2020 programme will be broadcast on Freeview each night from 8pm on Pop Up TV," says Ms Durkin.
"Innovation is necessary to present the arts, cultural and community benefits of the festival, given the current health crisis," Ms Durkin says. "We are proud of what's on offer, the collaboration with our Asia Pacific Photoforum partner organisation, Head On, and confident that our audiences will be able to readily access it through this year festival."
AFP has been working for the past month with supporters, photographers, galleries, stakeholders, Korida's Pop Up TV and Head On Photo Festival to organise a contingency AFP 2020. This contingency provides certainty for everyone despite unknowns about if public exhibitions and events will be permitted by late May. It will ensure the AFP programme will be accessible on a digital platform that showcase outstanding national and international photography and provides activities that audiences can engage and interact with. "We are optimistic that the more than 50 venues involved in 2020's festival will be ready to show their exhibitions on Kordia's Pop Up TV or in web presentations linked to the festival website as needed or on our You Tube channel," Ms Durkin says.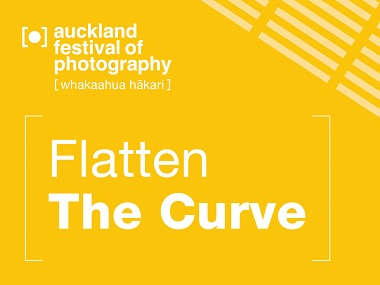 ----------------------------------------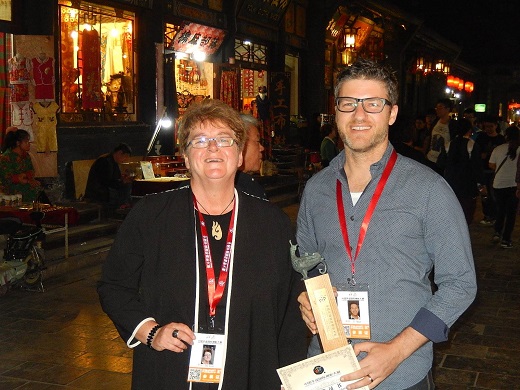 Julia Durkin, Festival founder & director with Annual Commission artist PJ Paterson, Award winner, Pingyao, China 2015
Julia Durkin, the founder and director of the annual Auckland Festival of Photography [AFP] has been awarded a Member of the New Zealand Order of Merit in the 2020 New Years' Honours.
Prime Minister Jacinda Ardern said the recipients were a diverse group of well-deserving Kiwis.
"It is a true reflection of New Zealand that the biggest category of recipients this year is for community, voluntary and local services. We are a country that values taking care of one another and it is fitting that these people are recognised for their efforts." (Abridged/NZ Herald)
Since it began in 2004, AFP has become Australasia's longest running annual photography festival, typically providing more than 100 exhibitions and events each June.
Ms Durkin says. "I'm humbled and delighted to receive this honour. It is a real privilege to be given such a significant national recognition of my work and of AFP's contribution to the photography community and cultural sector." For full details see - Julia Durkin; MNZM Award 2020. Or online at the DPMC, Department of Prime Minister and Cabinet.