Welcome to Festival Zone for the start of May 2023.
Resistance [ātete] at Auckland Festival of Photography – 2023
Outdoor, online and in venue exhibitions that explore the theme of resistance are at the heart of this year's Auckland Festival of Photography, which runs 31 May -11 June.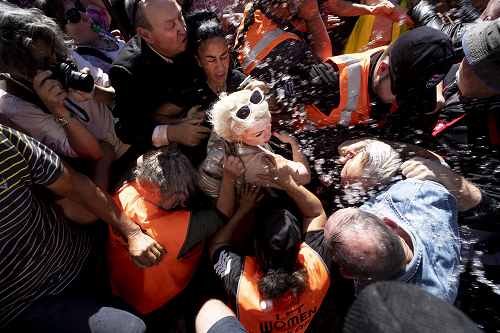 Image by Dean Purcell, British activist Kellie-Jay Keen-Minshull aka Posie Parker is escorted from Albert Park where she was holding a rally as trans-rights supporters close in. 25 March 2023 New Zealand Herald photograph
Counting down to our 20th anniversary edition, AFP remains relevant with a festival programme that resonates in the current environment, with content that reflects regional, national and global trends, stories and visual culture. We are delighted to announce the 2nd annual showcase by NZ Herald visual journalists in the Auckland Festival of Photography.
Resistance [ātete] - NZME Visual Journalists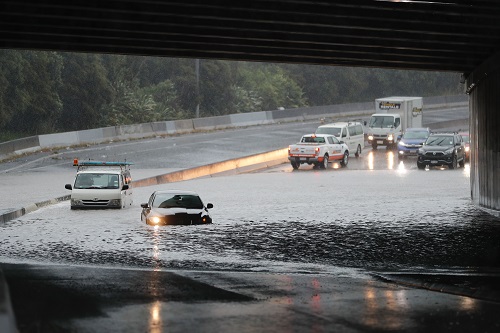 Image: Dean Parker, NZ Herald - Sth Western motorway, Auckland, January 27th floods
In response to the theme this year for the Auckland Festival of Photography, RESISTANCE, NZ Herald photographers share their work in the 2023 Festival.
NZ Herald photographers were thrown literally into resisting the elements with early weather events starting immediately after the New Year.
The surprise weather deluge on the Friday night of the Auckland Anniversary weekend saw Dean Purcell, the Herald's Chief photographer, completely enveloped by events (like many Aucklanders), whilst battling through traffic to get to cover the second attempt at Elton John performing in NZ, after Sir Elton cancelled in 2020 due to ill health.
Instead Dean started to work in challenging circumstances capturing news images of unsuspecting motorists' abandoning vehicles on Auckland's motorways and concertgoers trying any means possible to get out of the city and home.
At some of the West Coast beaches of Piha, Karekare and Muriwai the impacts were still being tallied 2 weeks later as Cyclone Gabrielle hit and plunged these areas and the East Coast of the country into complete disaster.
Whitianga and the rest of the Coromandel saw startling flooding again which bought down a state highway, and threatened a much-loved Yachting Club. In Gisborne/Tairawhiti and in the Hawkes Bay the devastation was palpable.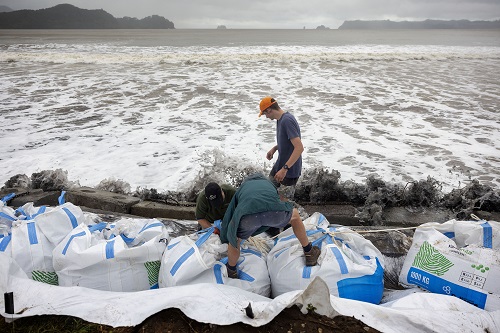 Image: Mike Scott, NZ Herald - Sandbags, storm damage, Cyclone Hale, Whitianga
Emergency Services and communities have dug deep ... one of the ways the NZ Herald photographers have documented these community responses to these nationally significant weather events throughout the summer and other events closer to home .... a snippet of these images will be showcased during the Auckland Festival of Photography. FREE.
---

As we head towards the start of the 2023 Festival, AFP founder Julia Durkin, MNZM re-iterates. "In many ways, for 20 years the Auckland Festival of Photography's [AFP] evolution and innovation epitomise the idea of resistance [ātete]. AFP was founded and developed outside the institutions that currently hold establishment power and privilege. It remains an independent voice for photographic artists and practitioners and is Australasia's longest running photography festival."
"I am really proud to lead a team that has delivered three outstanding festivals, 2020, 2021, 2022 during a global pandemic, without postponing or cancelling it, instead we provided the cultural sector with leadership and innovation, against a backdrop of changing audience behaviour, declining public funding and a commercial sponsorship slump.
Now in 2023, we stand tall to build on this legacy and create a growing audience for photography and give Aucklanders a free cultural experience."
---
Festival 2023 earlybird highlights
More early bird highlights are happening through May 2023, so start planning your Festival visits and keep up to date on our social media channels with what's coming up.
From next week is a boutique exhibition of Desi Hirner's wildlife photography. Desi has been capturing these amazing images for your enjoyment, she is an advocate for wild animals in their own natural landscape. Her show 'Wild Fuschia' is shown in a Parnell cafe, where you can take a tea break and look at the wildlife at the same time.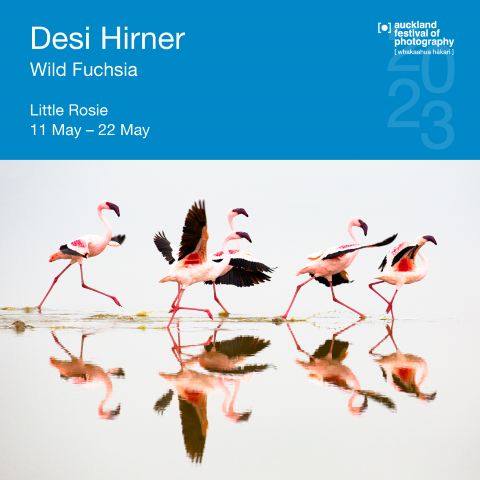 Abhi Chinniah - NZ Steel Gallery in Pukekohe
An emerging talent in the diaspora of diversity in Aotearoa, Abhi's work has been previously exhibited around Auckland and in the Festival in 2021. This combined show features stunning portraits from her 'A Migrant's Path 'and her recent show, 'Melanin Rising'. Abhi's work can be seen as a 'Resistance/[ātete]' exhibition dealing with ingrained colourism - discrimination based on skin colour - as a reflection of some stereotypical beliefs in New Zealand. Abhi was shortlisted for the Kuala Lumpur Photo Awards in 2022 for her with her portrait of migrant women who have settled in Aotearoa. Abhi is an important emerging visual artists and is using her creative voice to challenge stereo types.
On now until 17 June.
Kit Dean and the Museum Archive - Helensville
Local photographer Kit Dean's practice is environmentally based with a focus on structure and space. Visual aspects of Dean's work are consonant with the static nature of the Museum's photographic archives. These two projects will present 'resistance' thematically through the art of preservation and contemporary inclusion. Opens Friday 12th at 5pm.
Full in venue programme available now.
Online -
This key section includes all online participation via: YouTube; Instagram; artist/gallery websites; podcasts or online panel discussions; you can view from your home, on the go on the bus, train or ferry on your phone or whilst browsing the net on your tea break at work.

Resistance - Angkor Photo Festival and Workshops - Cambodia - a curated selection of work from South East Asia, from 31st May. From Southeast Asia's longest-running international photography event.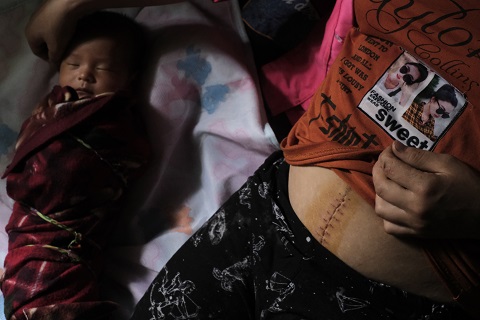 Nhan Tran - Vietnam - from series Between the Silent Eyes (c)
-----------
Grit Becker - Aftertaste - available now til 11 June

Aftertaste is a long-term photography project addressing concerns around New Zealand's compostable waste production, reduction and sustainability. It features kitchen scraps accumulated in a two-person household over 2.5 years.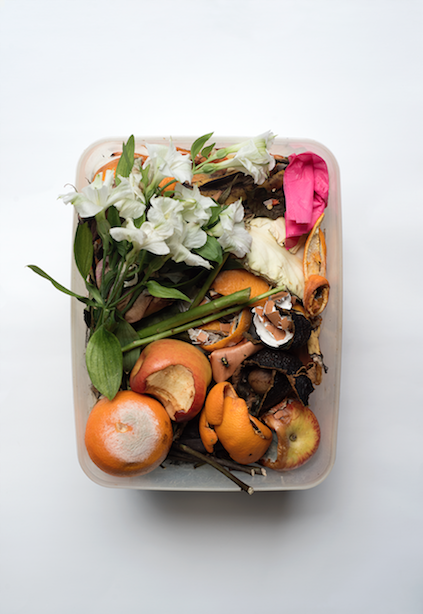 -----------
Monika K Adler - Patriarchal Sabbath - view now through to 11 June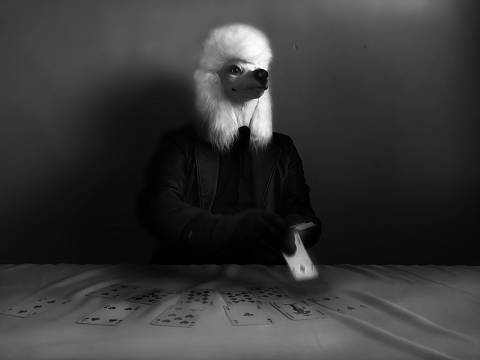 ---
Aotearoa Music Photo Award 2023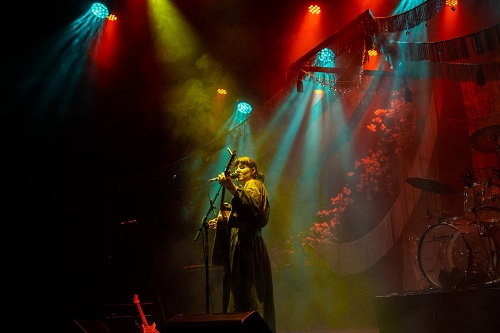 Image Auckland is delighted the 1st entries are in - 'Mousey at Powerstation Dec 2022 • Mousey, singer and songwriter based in Christchurch, live supporting Princess Chelsea'. Image by Ivan Karczewski
And that the 2023 Music Photography Award | Whakaahua Puoro Toa, Award call is now open until 20 May. Prize winners announced: 26 May 2023
1st prize - $1250 cash
2nd prize - $500 cash
Prizes sponsored by The Bass Player Ltd and Pacific Culture and Arts Exchange Centre.

Participation in the future exhibitions in 2024 plus other digital/projections/promotion of your winning image.
Plus benefits to all entrants -
Inclusion in the 2023 Festival programme online display - the 20th edition of the festival!
Our Festival is internationally recognised.
Support of Festival infrastructure - we place the spotlight on photography - attracting extensive publicity through a wide variety of media channels.
A online display of your entries on the festival website and promotion through the festival social media accounts.
Invitation to attend the Festival prize giving in Auckland (own arrangements if outside of Auckland) and the opportunity to visit other Festival project/events - consider meeting/networking with like-minded artists/photographers.