Welcome to Festival Zone for May 2020 during a ongoing national crisis.
The Auckland Festival of Photography Trust and team hope you are making the best of heading out of your bubble, whether back at work, or study, we hope you are helping save lives by following Alert level 2 social distancing & safety protocols like washing your hands.
Festival 2020 Outdoors on your walk or bike ride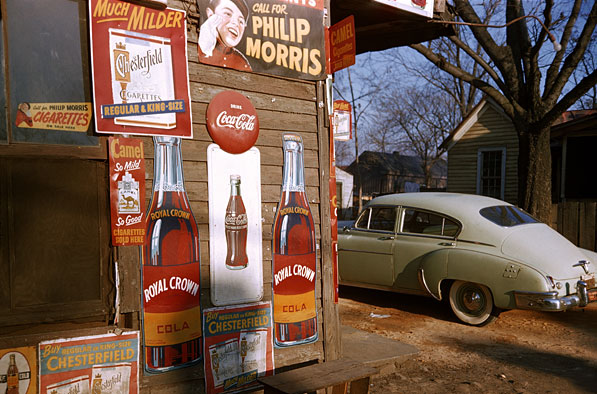 The public can enjoy 2020's Auckland Festival of Photography on Queens Wharf from 23 May, a early opener to provide hope and reassurance in our city. Walking or cycling will be the best way to view this wonderful exhibition. Please keep your distance and no more than 10 people in groups, so if bringing a school tour you can only bring them through in 10's at any one time. Read our 2020 Festival programme on Issu.

Werner Bischof - Unseen - USA series (1953/1954)
Auckland Festival of Photography is pleased to announce the presentation of the outdoor waterfront exhibition of work by Werner Bischof, Switzerland is going ahead. Werner started his career in his studio in Zurich, Switzerland, where he perfects his artistic photography in "painting with light and shadow". In 1945 he creates maybe the most significant photographic documentation of Europe in the aftermath of WWII. 1949 he joins Magnum Photos and travels two years in Asia: India, Japan, Korea, Hong Kong and Indochina as he continues his humanistic photography, combining form and content.
His untimely death in a car accident in Peru at age 38 was the catalyst to maintaining an archive for future generations.
USA is a series of work that brings early 1950s America vividly to life, yet Bischof's tragic death at 38 meant the photographs were never printed during his lifetime. This is the first time they are being shown to the public in New Zealand.
To explore and connect with this wonderful 'Unseen' series of work, the Werner Bischof archive director, Marco Bischof from Zurich will be available online at the Festival for the opening weekend activities including talk, panel discussion. We acknowledged the support of Panuku Development Ltd for the space, financial support by Pro Helvetia, Swiss Arts Council, The Lion Foundation and the work from the Werner Bischof Archive.
Marco Bischof (Switzerland): two time-slots
12pm (noon)-1pm Wed 27 May
10am-11am Sat 30 May

Dont miss this unique chance to hear Marco, he will give a talk about his father, Werner Bischof's photography 'USA' series. Read more and Zoom in to join the talk...
---
Talking Culture by Leica series
Auckland Festival of Photography Trust is delighted to announce that details of how to join the conversation of AFP's 2020 programme, in 'Talking Culture by Leica' are now available, including a stellar series #StayHomeWithLeica that features some of the leading lights in international photography, Alex Majoli, Maggie Steber, Bruce Davidson, Mary Ellen Mark in talks to be webcast.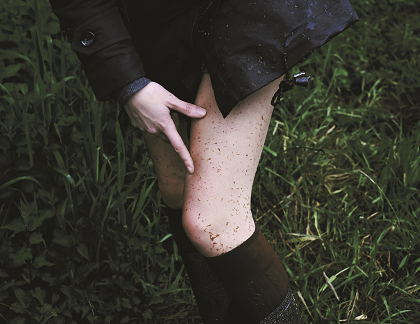 Amuary Da Cunha, France hear him speak at Photobook Friday, limited numbers, exclusive.
Amaury da Cunha, laureate of the Randell Cottage Writers Residence, in Wellington. writer and photographer, was born in Paris in 1976. After studies in modern literature, he went to the Arles National Superior School of Photography (ENSP) and graduated in 2000. In March 2017, Le Rouergue published an autobiographical story, Histoire souterraine. Just over a year later in May 2018, the H'artpon publishing house released Demeure, a book of images accompanied by texts written by Sylvie Gracia. Thanks to the French Embassy. Venue to be confirmed, check our website. Keep in touch for these details as we proceed through the next week.

Currently many of our opening weekend talks, panels and porftolio reviews are online via Zoom. However for 2nd weekend of the Festival on 6/7 June if the alert level has been reduced we will be holding Tim D and Cody Ellingham and Stephen Tilley talks in venues, including Emma Bass at Alberton, plus we are delighted to announce a new international Zoom talk for Simone Douglas (Aus) about her work on Sunday 7 June at 3pm about the Wynyard Quarter outdoor exhibition, Unseen, Earth-Sky-Lght which will be on down at Silo 7 from 26 May to 15 June. Image below is "Ice Boat, 2016" by Simone Douglas.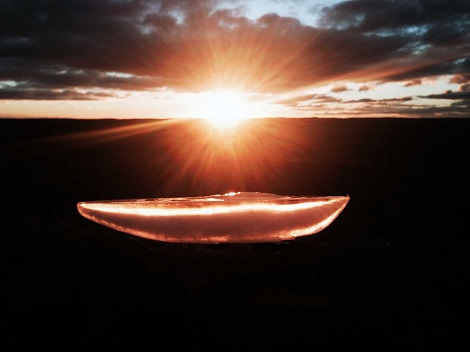 The Festival has moved part of the Talking Culture series online to connect our audiences with international photographers. We will be hosting the following #FREETALKS as part of our online programme.
The Talking Culture series brings photographers and audiences together for discussions about the exhibitions and the world of photography. A fantastic opportunity to meet the photographers and join in the discussions about their work.
To be a part of a Talk simply Download Zoom, visit link for each talk below:Zoom in to join the talk: the webpage explains steps to join the talk. Take part by joining us online 5 mins before the scheduled start time – please note Auckland, NZ time.
Artist Talks
Judith Crispin (Australia): two time-slots
5-5:45pm Thurs 28 May
11-11:45am Sun 31 May
Judith will talk about her latest exhibition, The Dingo's Noctuary, as part of the UNSEEN Festival theme. Read more and Zoom in to join the talk...

Jeanne Taris (France): two time-slots
6-645pm 28 May
12pm (noon)- 1245pm Sun 31 May
Jeanne Taris Award winning photojournalistwill talk about her photographic practice. More here Zoom in to join the talk...

In Discussion
Jamie Lean (NZ) with Marco Bischof(Switzerland): 45 minutes plus Q&A
1pm-2pm Thurs 28 May
A joint discussion about the work of photography archives, the central principles of archival practice, which underpin our understanding of what archives are and do in society. Read more + Zoom in to join the talk...

Alison Stieven-Taylor (Australia) with Helga Salwe (Australia):40 minutes plus Q&A
12pm(noon)-1pm Sat 30 May
Alison Stieven-Taylor, curator of The Female Eye exhibition in conversation with Helga Salwe, as her work responds to the experiences as a photojournalist residing in rural Australia. Zoom in to join the talk...

Panel Talk
1pm - 2pm Sat 30 May
Julia Durkin (NZ) with panel: Jeanne Taris (France), Alison Stieven-Taylor (Australia), Helga Salwe (Australia) and Simone Douglas (Aus):40 minutes plus Q&A
Panel discussion on the Unseen festival theme and the body of work "Female identity" plus myths in photography". Moderator; Julia Durkin, Festival founder & director. Read + Zoom in to join the talk...

Book in for your portfolio reviews on Monday 1st June, you dont need to be in Auckland, anywhere in New Zealand can join this!
Get your work seen by Mike Itkoff, co-founder Daylight Books, Sally Brownbill, industry mentor, Ken Newall, Leica NZ and Jeanne Taris (France). FREE.
---
Festival 2020 Online on your phone, tablet, laptop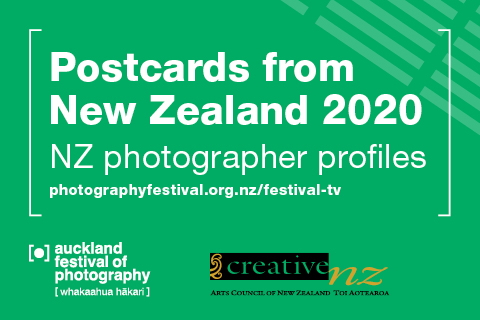 The Festival is also on track to announce our newly curated online Festival programme via You Tube, with the support of CNZ Arts Continuity Grant, which will engage a national audience for the Festival in rural communities who will get to take part from their homes, bachs, farms and accommodation across New Zealand for the first time. We plan to deliver the Festival 2020 online via You Tube and Zom with exhibition work, artist talks and webinars – creating digital content – re-formatting the Festival essentially and fostering good mental health and wellbeing, connecting to our cultural identity at a time of national crisis with access to a Te Reo Maori interface. This exciting development is being led by a new creative team, Leesa Tilley, You Tube digital producer and Adam Luka Turjak, Online content editor.
The online Festival includes a new pathway to pay a financial contributor's fee for New Zealand based solo artist/photographers, group shows, photo clubs, collectives per exhibition participating in the 2020 Festival online. The public invited to join the our New Zealand conversations using online tools on your phones, tablets and computers. Join our digital future and subscribe to our You Tube channels.


We aim to make festival participation as barrier free and inclusive as possible.
Full national schedule published next week.
---
Late Harvest - Exhibiting Artist Award 2020

We are now taking entries for the 4th annual artists, supported by our great new sponsor Wine-searcher.com, and we invite entries from all of the NZ based photographers participating in the re-formatted 2020 Festival - online, on-air and in venue.
Cash prize $1500. Enter your existing work or create new work safely for the 'Late Harvest' theme.
Wine-searcher.com are delighted to support NZ photography at this difficult time, especially as the submissions are online and aim to keep everyone safe, socially distant and creative! Deadline is 22 May. Get into it!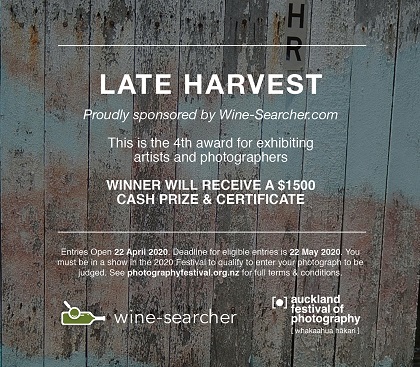 ---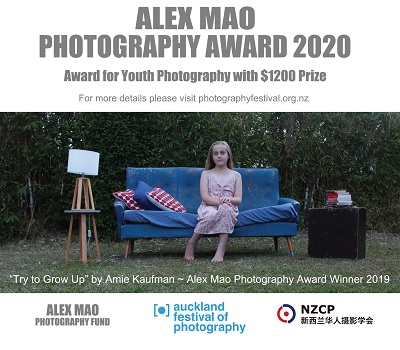 This is the 2nd photography prize for emerging photographers, at the start of their careers or study. This is a great submission opportunity for anyone under 25 years old to enter from the Auckland region.
The Alex Mao Photography Award is open now to be won by any image on any subject by a emerging photographer that is showing promise and ability to communicate with images as decided by the judges. Only one photo will win, you can submit 3 images (if eligible) from 1st to 31st May 2019. Judges decision is final. Cash prize NZ$1200.
Submissions via the Auckland Photo Blog. Terms and conditions.
---
Founding member -