Welcome to Festival Zone for end May 2020 during a ongoing national crisis.
The Auckland Festival of Photography Trust and team hope you are making the best of helping save lives by following Alert level 2 social distancing & safety protocols like washing your hands as we head towards the virtual launch of the 2020 Festival on Pop Up TV Freeview CH200.
In our line up coming up over 16 days on Freeview TV from May 27th, you might recognise one or two faces, including the Rt Hon Jacinda Ardern, Prime Minister.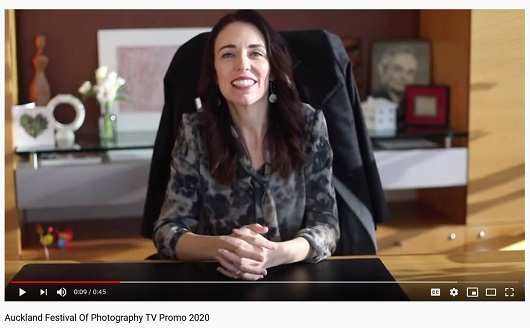 Festival 2020 Satellite
Over 30 Satellite exhibitions are on across Auckland, online and On-air. Highlights include Beyond The Index, curated by Allan McDonald on-air and online during the Festival, with Karen Crisp, Shona Dey, Jacob Hakopa Hamilton, Christine Jeffs, Cassey Locke, Anton Maurer, Haruhiko Sameshima and Yvonne Shaw. The Polish Heritage Museum in Howick are opening, so go see this slice of Polish history, explore joining Polish resistance during occupation in WW2. And join the Howick Photo Society on Monday 1st June at 230pm for their opening at Uxbridge Arts and Culture Centre, Howick.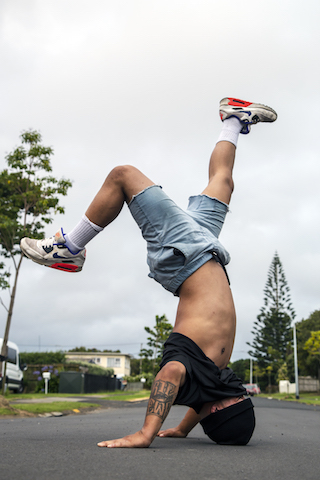 Diana Hu
Across town in Devonport is the second instalment of ArtsLab's Harakeke Project, showcasing the rich, often unseen fruit of creative enterprise at The Depot Artspace, open from 10am to 2pm Tues-Friday, Sat until 4pm. Worth a ferry ride to see this emerging artists show. Follow the Shore vibe with Lake House Arts Center in Takapuna with an opening at 4pm Sun 31 May, for a community showcase and nearby at Northart are the Digital Screens showing Yuko Nakajima (Japan), Lara Gilks (NZ), Denise Bachelor/Heather Randerson (NZ), Videre Collective (Australia) from Weds 27 May.
Emma Bass
Nearer to the Mt Albert is Alberton is Emma Bass, with The Impossible Garden from Sat 30th May, with an opening at 12pm Sun 31 May. Continuing on the Landscape and Nature theme is Helen Bankers at Railway Street Studio's in Newmarket. So many more, check our website or get our Mobile App on your phone below.
The public can enjoy 2020's Auckland Festival of Photography across Auckland at various spaces, galleries and cafes. Read our 2020 Festival programme on Issu.
Latest copy of D Photo Magazine carries the 'Unseen' theme message from the Festival in full, here is an abridged version -
"Fortunately, in a photographic world, we are never ever without light. With that in mind, the AFP Trust and team have worked tirelessly to offer a 2020 Festival to celebrate photography. The objective has been to honour the light, hope, and work of the artists, photographers, groups, photo clubs, and curators who have stayed the course with us — and all our stakeholders to provide a beacon of hope in these unprecedented times. Tune in, turn on and enjoy"
Julia Durkin,
MNZM, AFP Public Participation Director
---
Festival 2020 Online on your phone, tablet, laptop
The Festival is delighted to announce the First week schedule of 'Postcards From New Zealand' programme via You Tube, made with the support of Creative NZ Arts Continuity Grant, to engage a national audience for the Festival in rural communities who will get to take part from their homes, bachs, farms and accommodation across New Zealand for the first time.
Each day we have new work to show and share from around New Zealand, you can catch it on our Festival TV portal.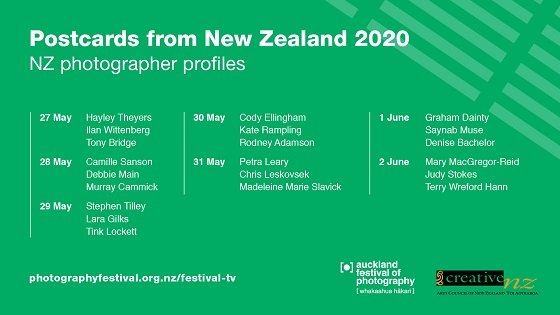 The online Festival has paid out $7800 to 26 contributors so far in a new pathway to pay for New Zealand based solo artist/photographers, group shows, photo clubs, and collectives per exhibition participating in the 2020 Festival online. The public is invited to join our New Zealand conversations using online tools on your phones, tablets and computers. Join our digital future and subscribe to our You Tube channels.
We aim to make festival participation as barrier free and inclusive as possible.
Full national schedule for 'Postcards From New Zealand' week 2 published next week.


---
Festival 2020 Digital Screens
Lightboxes - Unseen- The Dingo's Noctuary - Judith Nangala Crispin - opens 27 May , thanks to the Australian High Commission and support by Heart of The City. Situated in Freyberg Place, these are best seen after dark, Kim Hill described these works as 'fantastically beautiful', hear the full Radio New Zealand interview and go see them and decide for yourself.
Artist Judith Nangala Crispin, a Canberra-based poet and visual artist, with an background in music, has published a collection of poetry, The Myrrh-Bearers (Sydney: Puncher & Wattmann, 2015), and a book of images and poems made while living with the Warlpiri, The Lumen Seed (New York: Daylight Books, 2017). Since 2011, she has spent part of each year living and working with tribal people in the Tanami desert. Judith was a key guest speaker at our inaugural 'Photobook Friday' in 2017, where she shared the making of her book 'The Lumen Seed'. She has been invited to receive the 2020 National Library of Australia Creative Arts Fellowship for Australian Writing, a real honour for her work.
In 2020 we will host her latest exhibition, The Dingo's Noctuary, as part of the UNSEEN theme, an outdoor series on lightboxes in Freyberg Place, CBD fom 27 May to 15 June. These works are best viewed after dark, before midnight.
Judith will participate in the 2020 Festival from Australia via Zoom to take part in the public programme of talks, Photobook Friday, panels and other activities from 28 May to 31 May in Talking Culture.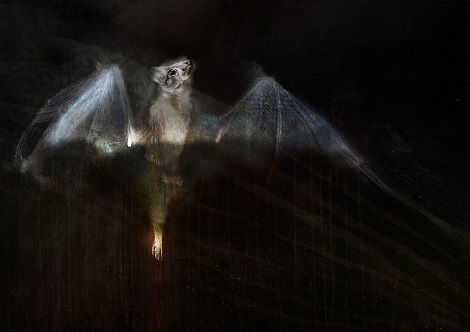 Judith Crispin - (c) Enid, connected to Earth by zodiacal light– spider-strings in the old language, the umbilicus of Country.

Lots to see on digital screens at Central Library, Ellen Melville Centre, Northart, and see our full Self Guided Tour along the waterfront up to Freyberg Place is recommended to do each weekend evening from 530pm to 8pm, download yours now. These activities provide an opportunity for the public to see international and NZ photographers exhibit their photography in a simple, alternative way. Among those presenting are: Lara Gilks (NZ), Denise Batchelor (NZ), Hormoz (France), Yuko Nakajima (Japan), Videre Collective (Aus), Rochelle Wong (Aus) and heritage images from Auckland Libraries.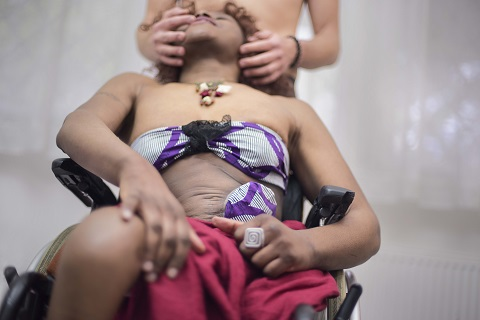 Hormoz is a French photographer and director. His major works have been shown in many magazines, festivals, and galleries. He mainly explores surrealistic, nightclubbing and social issues. His work at the Festival is exploring the sexuality, body image of Cindy who is of Malian origin, Muslim culture and born disabled. She wants to tell her personal story. Cindy and Hormoz imagine a photographic series in which Cindy seeks to undramatize the image of sexuality linked to disability and African cultures.
Scott A Woodward, (Singapore) 'All The World's A Stage' is on our Pop Up TV, more on this next week.
Scott has been fascinated by the DPRK, longing to travel there and experience the infamous Hermit Kingdom. Finally, in October 2015, Scott visited North Korea during the national celebrations commemorating the 70th anniversary of the founding of the Worker's Party of Korea, the lone ruling regime of the DPRK's 24 million citizens.
His work features regularly in a variety of international publications, including National Geographic, GEO, The New York Times and The Washington Post. Scott has also photographed international advertising campaigns for many global brands including Google, Adidas, MasterCard and Johnnie Walker.
---
Festival 2020 Mobile App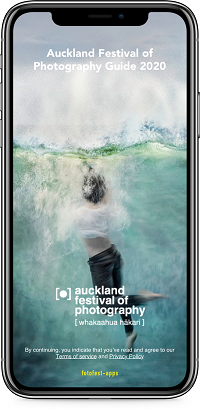 Use our mobile app around the region and nationally to check whats on and when, create your own schedule.
---
Talking Culture by Leica series
Auckland Festival of Photography Trust is delighted to announce that details of how to join the conversation of AFP's 2020 programme, in 'Talking Culture by Leica' are now available, including a stellar series #StayHomeWithLeica that features some of the leading lights in international photography, Alex Majoli, Maggie Steber, Bruce Davidson, Mary Ellen Mark in talks to be webcast.
The Festival has moved part of the Talking Culture series online to connect our audiences with international photographers. We will be hosting the following #FREETALKS as part of our online programme.
The Talking Culture series brings photographers and audiences together for discussions about the exhibitions and the world of photography. A fantastic opportunity to meet the photographers and join in the discussions about their work.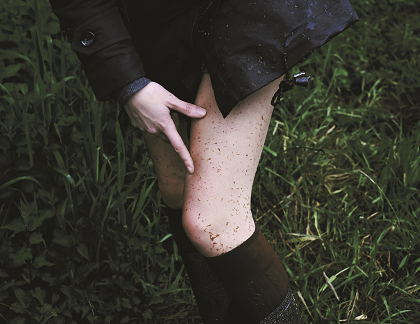 Amuary Da Cunha, France hear him speak at Photobook Friday, limited numbers, exclusive.
Amaury da Cunha, laureate of the Randell Cottage Writers Residence, in Wellington. writer and photographer, was born in Paris in 1976. After studies in modern literature, he went to the Arles National Superior School of Photography (ENSP) and graduated in 2000. In March 2017, Le Rouergue published an autobiographical story, Histoire souterraine. Just over a year later in May 2018, the H'artpon publishing house released Demeure, a book of images accompanied by texts written by Sylvie Gracia. Thanks to the French Embassy. Venue is Ellen Melvile Centre, join Amaury and Cody Ellingham & Judith Crispin by Zoom.

This will be an intimate informal discussion on the work of several practitioners and their photobooks, first come first seated.

To be a part of a Talk simply Download Zoom, visit link for each talk below:Zoom in to join the talk: the webpage explains steps to join the talk. Take part by joining us online 5 mins before the scheduled start time – please note Auckland, NZ time.
In Discussion
Jamie Lean (NZ) with Marco Bischof(Switzerland): 45 minutes plus Q&A
1pm-2pm Thurs 28 May
A joint discussion about the work of photography archives, the central principles of archival practice, which underpin our understanding of what archives are and do in society. Read more + Zoom in to join the talk...

Alison Stieven-Taylor (Australia) with Helga Salwe (Australia):40 minutes plus Q&A
12pm(noon)-1pm Sat 30 May
Alison Stieven-Taylor, curator of The Female Eye exhibition in conversation with Helga Salwe, as her work responds to the experiences as a photojournalist residing in rural Australia. Zoom in to join the talk...

Panel Talk
1pm - 2pm Sat 30 May
Julia Durkin (NZ) with panel: Jeanne Taris (France), Alison Stieven-Taylor (Australia), Helga Salwe (Australia) and Simone Douglas (Aus):40 minutes plus Q&A
Panel discussion on the Unseen festival theme and the body of work "Female identity" plus myths in photography". Moderator; Julia Durkin, Festival founder & director. Read + Zoom in to join the talk...

Book in for your portfolio reviews on Monday 1st June, you dont need to be in Auckland, anywhere in New Zealand can join this!
Get your work seen by Mike Itkoff, co-founder Daylight Books, Sally Brownbill, industry mentor, Ken Newall, Leica NZ and Jeanne Taris (France). FREE
---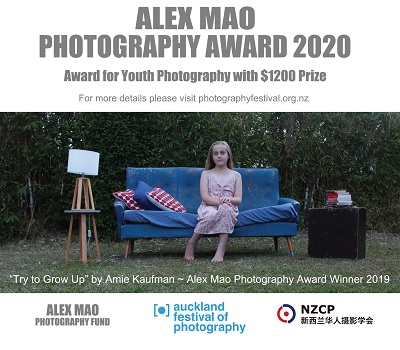 Deadline is 31st May 2019. Judges decision is final. Cash prize NZ$1200.
Submissions via the Auckland Photo Blog. Terms and conditions.
---
Founding member -