Welcome to Festival Zone for the 2nd week of June 2020.
The Auckland Festival of Photography Trust and team hope you are looking forwards to Alert level 1, still maintaining safety protocols like washing your hands as we head into week 3 of the 2020 Festival on Pop Up TV Freeview CH200.
Annual Commission 2020
The festival is pleased to announce 2020 Auckland Festival of Photography Annual Commission exhibition opens tomorrow 9 June. The Trust is celebrating the 10th anniversary of the Commission, from June into July at the Pah Homestead, 72 Hillsborough Road, Hillsborough. Congratulations to our artists for their stunning new works. Featuring works by -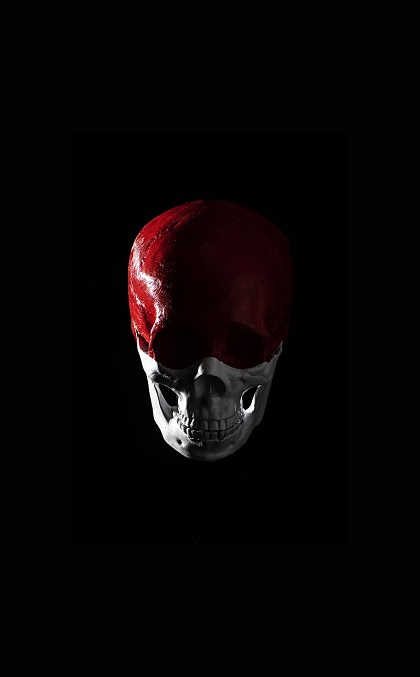 Raymond Sagapolutele - Indonesia
Qiane Matata-Sipu (Te Wai-o-hua, Waikato-Tainui) is a South Auckland-based journalist, photographer and social activist.
Saynab Muse provides a unique perspective to the cultural landscape of photography, with her Muslim heritage, and love of photography.
Raymond Sagapolutele is an Aotearoa-born Sāmoan artist with family ties to the villages of Fatuvalu in Savai'i and Saluafata in Upolu, Samoa. Read more about all 3 artists here in D Photo 2020 Festival Feature.
Plus works by Rebecca Thornley, James K Lowe, Jennifer Mason, Tanu Gago, PJ Paterson, Russ Flatt, Janet Lilo, Alex Plumb and Yvonne Shaw.
Use our mobile app around the region and nationally to check what's on and when, create your own schedule. Thanks to -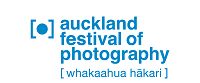 ---
Core/Unseen exhibitions this week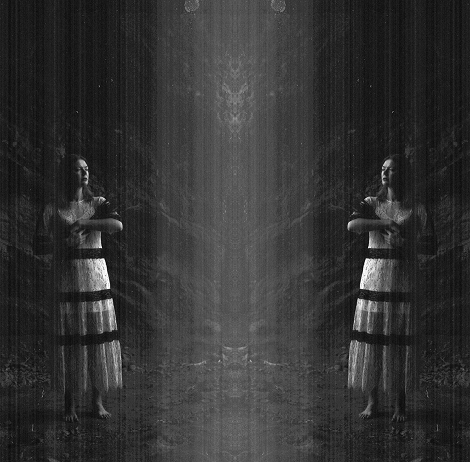 Roberta Thornley at Tim Melville Gallery, Camille Sanson at Whitespace, Stephen Tilley, Petra Leary at Studio 58, Ilan Wittenberg at the Grey Place, and Unseen show - Communicating Vessels - Kate Rampling, Hayley Theyers, Mary MacGregor-Reid at Black Asterix are all open/opening this week, full details on our calendar.
---
City Rail/Link Alliance - Street exhibition - Hopetoun Street June 2020

On now corner of Hopetoun Street and Beresford Square a curated exhibition of Auckland Photo Day images, walk, cycle, skate by. Completion soon.
---
Nikon Auckland Photo Day - Shoot, Submit + Win Prizes - Deadline 12th June 5pm
The 2020 1st, 2nd, 3rd prize winners including Top 30 runners up and People's Choice winner will be selected from all eligible entries submitted by Friday 12th June and displayed on the Festival website, generate local media interest and social media exposure plus the public are invited to vote for the People's Choice winner for one week in late June online.
Delighted to announce our 2020 judging team will be -
Robert M Knight - Legendary rock music photographer - https://www.knightbilhamphoto.com/
Petra Leary - Drone photography specialist - https://www.petraleary.com/
Ken Newell, Nikon NZ representative - http://www.nikon.co.nz/en_NZ
See our Nikon camera prizes here
Added bonus this year is your image could be selected by the Trust from all entries to become part of the new series of street exhibitions that are being presented in partnership with City Rail Link in 2020, see City Rail Link Alliance partnership Auckland Photo Day.

---
Festival 2020 Digital Screens - Aotea Square
Starting 8 June to 11 June - Auckland Live Digital Screens, Aotea Square

Mon to Thursday, Fri-Sat 10:30 | 13:00 | 17:30 | 21:30 & Sun 10:30 | 13:00 | 17:30 | 19:30. Last day Sunday 14th June.
Auckland Festival of Photography Trust is pleased to present the international documentary photography from five photojournalists with an eye on our world. Screenings run for 20 minutes in total. This week Jeanne Taris (France), with The Female Eye - Kerry Pryor, Helga Salwe, Ilana Rose, Nicola Dracoulis (Australia) curated by Alison Stieven-Taylor and this closing weekend, we are delighted to present all New Zealand screenings on Fri - Sun with Alex Plumb 'Elena', Saynab Muse 'Untitled' and Petra Leary "Bird's Eye" courtesy of Loading Docs.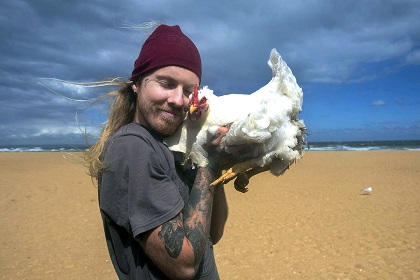 Ilana Rose; This Chicken Life - The Female Eye (Australia)
Lightboxes - Unseen- The Dingo's Noctuary - Judith Nangala Crispin - now in the city, thanks to the Australian High Commission and support by Heart of The City. Situated in Freyberg Place, these are best seen after dark, Kim Hill described these works as 'fantastically beautiful', hear the full Radio New Zealand interview and go see them and decide for yourself.
In 2020 we host her latest exhibition, The Dingo's Noctuary, as part of the UNSEEN theme, an outdoor series on lightboxes in Freyberg Place, CBD now, ends 14 June. These works are best viewed after dark, before midnight.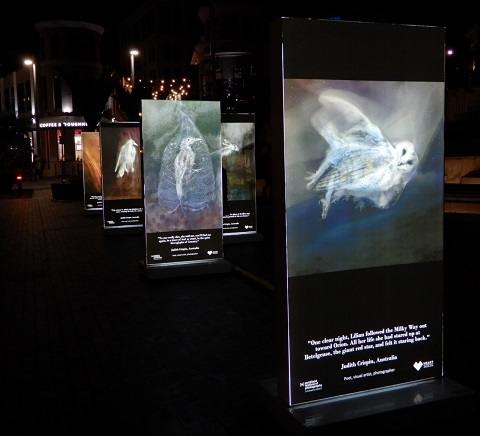 ---
Freeview TV - Mon to Sat 8pm - CH 200
Highlights this week -
Alex Mao Award entries and winner, Core exhibitions, Digi Screens, Werner Bischof, Annual Commission. And wait there's more - Ngā Taonga Sound & Vision is presenting two great NZ documentaries from their archives at the Festival 2020, Sense of Place, Robin Morrison on 11 June at 8pm and Peter Peryer, Portrait of a photographer, (1994) Director: Greg Stitt, on 13 June 8pm, read full details.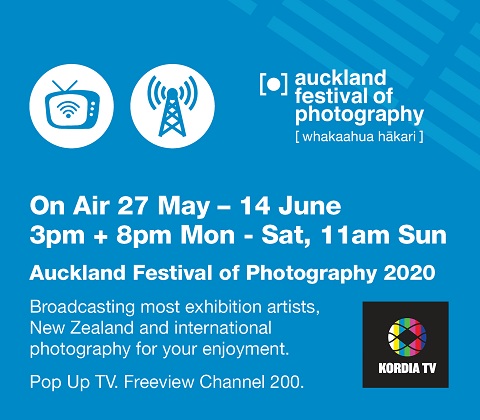 ---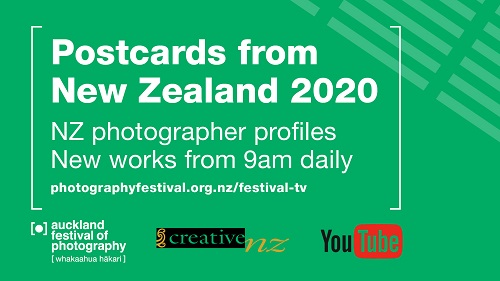 View our impressive 'Postcards From New Zealand' programme via You Tube, made with the support of Creative NZ Arts Continuity Grant, to engage a national audience for the Festival in rural communities who will get to take part from their homes, bachs, farms and accommodation across New Zealand for the first time.
Each day we have new work to show and share from around New Zealand, you can catch it on our Festival TV portal. We aim to make festival participation as barrier free and inclusive as possible.
The public is invited to join our New Zealand conversations using online tools on your phones, tablets and computers. Join our digital future and subscribe to our You Tube channels.

---
Mass Isolation - FORMAT
Global call for participation
A selection of current entries to this global pandemic project will feature this closing weekend on our Pop Up TV show on Freeview CH200, 13 June 8pm. The @massisolationformat Instagram project has already received over 20,000 submissions from 70 countries, our curators look at everything and invite more people to take part in this incredible mass-participation project.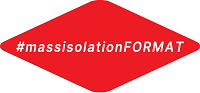 Use our mobile app around the region and nationally to check whats on and when, create your own schedule.
---
Best of Head On Photo Festival 2020
Go to Sydney online! This year's critically acclaimed Head on Photo Fest set the internet awash with great talks, panels and workshops as well as dozens of top international photography exhibitions, there were the annual Head On Awards which were presented on Facebook Live in slick and professional presentation. Go walkabout on their site anytime, great photography matters and Head On is setting the standard for online delivery of large scale Festivals online. Congratulations to their team and supporters.

Founding member -