Welcome to Festival Zone for January 2018. The Auckland Festival of Photography Trust wish you all a Happy New Year. We hope you are enjoying summer in Auckland.
As we begin the New Year we are taking the opportunity to review projects which have been milestones of the annual Festival in our early years, projects which provided a new way to enjoy photography, new ways of sharing the work of photographers with the public and innovative firsts for the cultural life of the Auckland region.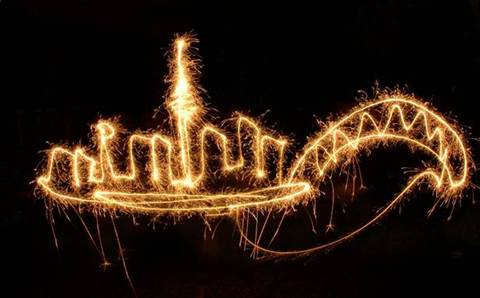 Burning Skyline by May Lee Weernick won our 2007 Billboard competition with her creative use of light painting to show the Auckland skyline. It was the 1st Peoples Choice vote for any public photography competition which was introduced by the Festival in 2007 and has since become a permanent feature of the annual Nikon Auckland Photo Day since 2012.
May Lee said people constantly ask her how she achieved such an eye catching result. "I set up my camera on a tripod facing a dark wall in the backyard," she says.
"Setting the camera to long exposure, I used a remote control to activate the shutter. Then I drew the Auckland skyline - freehand - using a lit sparkler. I wore dark clothes so I wouldn't show up in the photo".
May Lee made repeat attempts and used two full boxes of sparklers before she was satisfied with her final entry (pictured above.). "I probably spent more than two hours on it! My flatmates thought I was crazy...".
---
Annual Commission by Baker+Douglas
2018 is the 8th year of the Auckland Festival of Photography Annual Commission. Each year one of three shortlisted photographers is commissioned to produce a new body of work especially for the Festival in June and with the support of Creative New Zealand for the Annual Commission at Silo6 exhibition.
The 2018 artists shortlisted are Robert George, Chris Leskovsek and Alex Plumb.
We are also delighted to announce that the Annual Commission will be presented by Baker+Douglas, the New Zealand based publisher and online retailer of Fine Art Photobooks and Apps specialising in the work of local and international photographic and moving image artists.
The Annual Commission by Baker+Douglas will be presented in one of the Silos as part of the suite of Control exhibitions in Silo6 for the Auckland Festival of Photography. The selection panel for the Annual Commission will be selecting the artist who will be commissioned to make new work in February 2018 and are excited at the prospect of what might be achieved in the challenging waterfront space. Thanks to Creative New Zealand and Baker+Douglas.
---
Australian landscape - Head On Photo
Delighted to announce a cross Tasman partnership with Australia's leading photo festival, Head On, is coming to Auckland in June 2018. A selection of the Head On Landscape Prize images will be exhibited at Metro Gallery as part of the Auckland Festival of Photography 2018. With key Australian guest, founder & director Moshe Rosenzveig, who will share his expertise in talks, portfolio reviews and special events at the June Festival.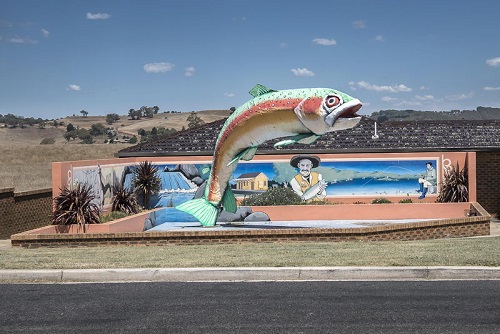 Geoff Goddard - YES, Head On Landscape Awards
Part of the Core programme at Metro Gallery in Hobson Street during the Festival. Supported by the Australian High Commission in Wellington for a exhibition of contemporary Australian Landscape photography selected from the annual Head On Landscape Awards.
---
Core programme 2018
We have an open call for expressions of interest for our Core programme exhibitions for our 15th anniversary Festival - 31st May to 22nd June 2018.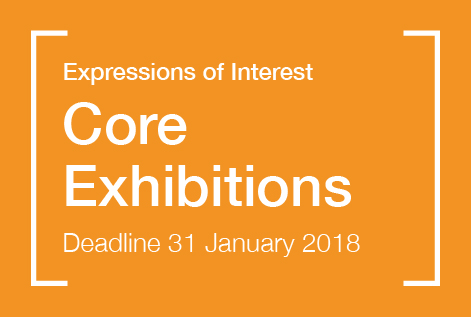 The Auckland Festival of Photography is open to programming any exhibition created through the medium of photography. We encourage festival participation from all levels of exhibitors including dealer galleries, private and public venues, individual artists and community groups. Follow us on Instagram for more on the 2018 Festival.
---
Asia Pacific directors at Talking Culture 2018
Talking Culture 2018 aims to present an extended and improved public programme to foster the interaction between artists, curators, photographers and audiences, to create a gathering point for the artform of photography with talks, projections, screenings + in conversation.
Steven V Lee is the founder director of Kuala Lumpur International Photoawards (KLPA). Since 2009, KLPA has been recognising and rewarding top international photographers through it's open calls, focussing on the best in contemporary portrait photography. KLPA in its 10th year, has been selected as one of the top recommended contests by World Photography Organisation.
Steven continues to run photography educational workshops through EXPOSURE+ Photo Mentoring platform in Kuala Lumpur with other photographers, and has been a portfolio reviewer at the Mt Rokko International Photography Festival in Kobe, Japan from 2013 to 2017. In 2017, Steven initiated and conducted the first PhotoSymposium Asia in Kuala Lumpur and the second instalment is planned for May 2018.

Steven spends his time between London and Kuala Lumpur. As he initiated this leading portrait competition in Asia with the goal of tapping into the wealth of talented photographers from South East Asia, Steven will take part in Talking Culture presentations, panel discussions and portfolio reviews in June.

Gwen Lee, Director of the Singapore International Photography Festival will be curating the control exhibition in Silo6 for the 2018 Auckland Festival of Photography. SIPF currently has an Open Call with a brand-new photobook category, the festival aims to expand the reach of art photography and uncover new talents for the photography world.

Supported by Asia New Zealand Foundation.

---
Asia Pacific Photoforum
Head On Photo Awards open for 2018 -

The international prestigious Head On Photo Awards are open now in Portrait, Mobile and Landscapes categories offering prizes worth $50,000 in cash and product.
See full details at - Facebook: @HeadOnPhotoFestival or Twitter: @headonphotofest or Instagram:@headonphotofest
---
Alexia Foundation
Alexia Foundation grants are now open for applications for the support of photographers with long term documentary projects from around the world. More details here on these grants, open now.