Welcome to Festival Zone for the 2nd week of the Festival 2018.
Nikon Auckland Photo Day 2018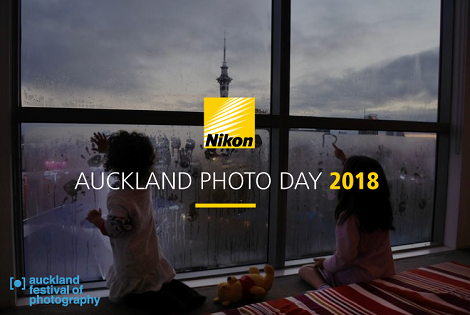 Get Ready to shoot - 24 hours in Auckland.
Opens from midnight on Friday 8th June, you must take your images or footage on Saturday 9th June to enter.
1st Prize is a Nikon D5600 Kit
2nd Prize is a Nikon D3400 Kit
3rd prize is Nikon 1 J5
Nikon Key Mission Moving Image prize is a Key Mission 360 degree camera
---
Auckland Photo Day lightboxes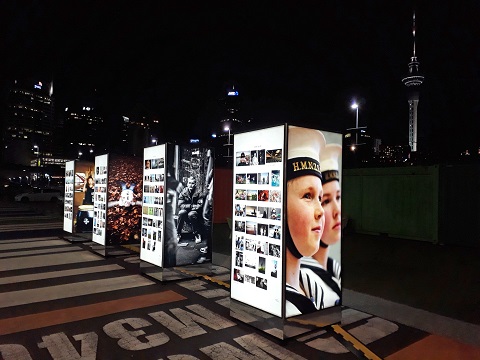 Walk along the waterfront from Queens Wharf to Silo Park and see the Festival's lightboxes on Te Wero Island, next to the bridge crossing. Record breaking numbers have seen this display since 23rd May, literally tens of thousands of people have viewed these wonderful images taken by finalists of Nikon Auckland Photo Day since 2004. The weather is going be much improved this weekend, so go see them on the way to Silo 6 and the 'Control' exhibition at Wynyard Quarter.
Jacob Burge "Face Off" is part of the Control exhibition at Silo 6, open this weekend from 1030am each day. Check this out, exclusive to Auckland Festival of Photography. Curated by Gwen Lee, Singapore. Thanks to Creative New Zealand and Asia New Foundation. And in the 'Control' theme the group show 'Volition' opens at Studio 541, from 6pm on Tuesday 12th June.
---
Core exhibitions
At White Studio's is 'Personal' a showcase of personal work by professional commercial photographers, the opening is at 630pm on Thursday 7th June.
Next week on Tuesday 12th June is Kevin Capon's exhibition at Sanderson Contemporary Gallery, he has a 530pm opening and Kate van der Drift, with Water Slows As It Goes Around the Bend opens too.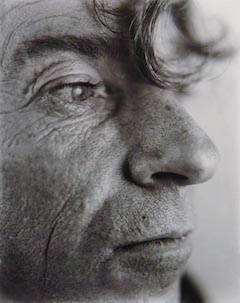 Tony Fomison, 1984, silver gelatin contact prints,
edition of 6, 200mm x 255mm - by Kevin Capon
---
Talking Culture - Drone Display
Today, 7th June at 115pm (re-scheduled from 6th June due to flight delay) is Paul Batt (Aus) at Ellen Melvile Centre talking about his 'Service Station Portraits'. The transitory nature of a service station means that patrons don't arrive there as such. The customer's intention is their immanent departure and the purpose of their arrival. Batt has lectured in photography at PSC, RMIT and Monash Universites and as well as written for magazines such as Photofile.
At the Ellen Melville Centre - 9 June, 11am - Meet the artist - Sandra Chen Weinstein (US)
'Seoul Searching' exhibition - venue is Ellen Melville Centre, Eleitino Paddy Walker Room, 2 Freyberg Place, Cnr High St
Ollie Dale - Sat 9 June,12–1pm
Drone display - Silo 7, Silo Park
Demonstrating how to make great aerial images by drone – see live demonstration. Thanks to Grant Wilson from Drone Deploy
Panel Discussion:
Dr Leon Tan, William Bardebes, Allan McDonald, Dr Nina Seja,Dr Scott Wilson
Sat 9 June, 1–2pm. Unitec, Building 1, Snowwhite Gallery - then follow signage.
The Visibility Paradigm
This panel discussion for the exhibition The Visibility Paradigm. It will take place inside a camera obscura under a veil of semi darkness to play with conventions of visibility, the camera and the photographic audience. The discussion will examine notions of visibility, power and the camera in the age of face recognition technology.
Full Talking Culture by Leica programme for the weekend is on our calendar.
---
Satellite
Hear Dr Pedram Pirnia discuss his work - Afghanistan - Another Perspective at Ellen Melville Centre today, Thursday 7th June at 1230pm. Part of the Talking Culture series.
His exhibition reveals the challenges people face in Afghanistan and what outsiders, especially New Zealand Aid and Defence Forces, have achieved aligned with the abstract contents of the Universal Declaration of Human Rights which New Zealand champions. The exhibition runs until 22 June at Takapuna Library.
Opening today, 7th June is Jocelyn Carlin's work at Millers Cafe, at 530pm to 630pm, join us to celebrate this late photographer's contribution to the country and sector. Then on Saturday 9th June at Arthuas in Orakei is a late addition to the Satellite, Gerald Lopez with Nourishing The Soul, a personal exploration of people and places including Timor. Opening function 4pm to 6pm.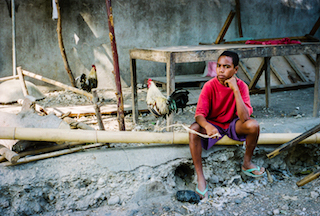 Plus over in Henderson is the annual weekend show by the Henderson Photographic Society from 10am to 4pm, Saturday 9th and Sunday 10th at Old St Michael's Church. Full details on Satellite exhibitions here.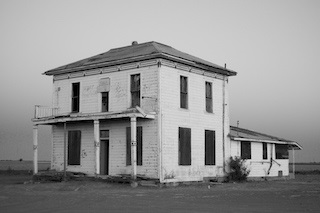 For those wanting an alternative process and experience in this digital age, try heading to Lake House Arts Centre, Takapuna for The Collodion Collective, a Wet plate collodion is one of photography's earliest processes. Its temperamental chemistry and beautiful image quality is being rediscovered by a small group of kiwi photographers – the Collodion Collective. "All up and running with bookable portrait or plate pouring sessions on Sunday 17th and 24th June" says Martin Sowter.