Welcome to Festival Zone for April 2021. The Auckland Festival of Photography Trust and team are delighted to share the…...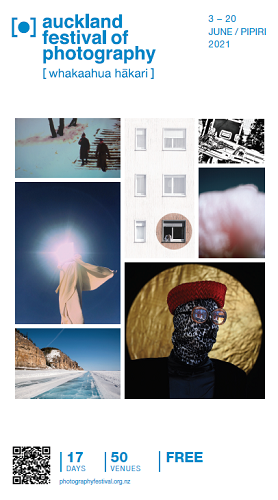 We are delighted to announce the programme for the 2021 Auckland Festival of Photography is now live on our website, including a full calendar of events, Core exhibitions, talks, projections, competitions, 28 Satellite shows, plus later this month a digital interactive guide
"Innovation is necessary to present the arts, cultural and community benefits of the festival, given the ongoing health situation," Ms Durkin says. "We are proud of what's on offer and confident that our audiences will be keen to readily enjoy all types of visual imagery through this year's festival."
Visit the Festival website, or read a soft copy online, or a print preview on issuu.com. From 15 April our much anticipated print programme will be ready too, print programmes will be available at the Festival office or collect one 7 days a week at all our participating venues + libraries across region. Through out April plus later on view our digital Festival Guide sponsored by Waterloo Foundation.
Highlights of 2021's festival include Isolation outdoor exhibitions, installations along the waterfront from Wynyard Quarter to Queen's Wharf, Core and Satellite exhibitions around the region, the Digital Screens and Alex Mao Youth Award, the inaugural Aotearoa Music Photography Award and Auckland Photo Day on June 12. Entries for all three Awards will be online. AFP 2021 will also offer its 5th annual cash award, with a 'Late Harvest' theme by wine-searcher.com, open for entries by all presenting exhibition artists. Details of AFP's 2021 programme, including 'Talking Culture' are online and in venue talks, the public is invited to attend in venue or watch the discussion online.
Photography fans can enjoy 2021's Auckland Festival of Photography across the region from June 3 to 20. FREE.
---
Isolation theme Highlights 2021
Cody Ellingham, NZ Nocturnes
Isolation and participation are elements underpinning 2021's Auckland Festival of Photography, at 8 regional venues/locations, including Auckland's waterfront during June.
AFP's isolation theme explores Covid-19's impact on NZ and international communities and how we look to photographers to navigate the difficult questions that isolation, and emerging from it, can present.
"As naturally social animals, humans living in a state of isolation suggests an abnormal circumstance or tragedy. A space of aloneness can suddenly be filled with the difficult questions in life too profound to confront in company, a space in which creativity can flourish. This is perhaps why we reserve a certain mythical and mystical belief in the isolated artist. We believe they have confronted the questions." - AFP Trust

NZ artist, Kevin Bleakley, Cameron McLaren, Cody Ellingham and international work from UK, Italy, Germany and Norway features along the Auckland Waterfront at 3 sites, Silo Park, Te Wero Island, Queens Wharf and in the CBD at Freyberg Place. Julia Fullerton-Batten, Mitchell Moreno, Lene Marie Fossen (PG advisory), Chiara Panariti, Gianfranco Ferrero and Claudia Heinermann, take on the Festival's theme through their artistic/photographic lens and projects.
---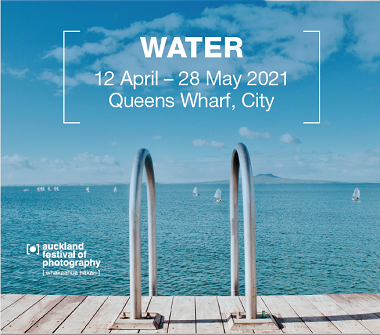 Auckland Festival of Photography are delighted to present Water, an outdoor exhibition of images capturing Aucklanders' innate relationship with water in our city, on Queens Wharf fence, CBD. FREE - walk, cycle, skate by.
Thanks to: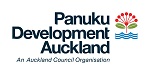 ---
Photobook Friday 2021
We are also pleased to present exclusively to Auckland, for the 5th year, our annual Photobook Friday event, kicking off the festival on Fri 4 June. Come along to see presentations from photographers who have published some of the best photography books over the past 12 months, while viewing a selection of these books in person. We will explore the entire process of photobook making, from edit to printing. Fantastic speakers include: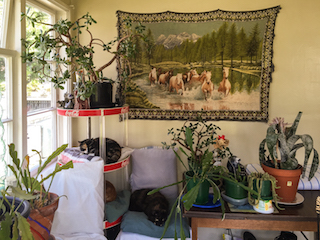 Image by Sara McIntyre, 2016 Auckland Festival of Photography at Anna Miles Gallery.
Diana Markosian, who's book Santa Barbara was chosen as one of the top ten photobooks of 2020 by renowned photo blog 1000 Words. The book, published by Aperture, represents the photographer's incredible personal story of immigration, adapted into film and photography.
Eiji Ohashi, a photographer from Japan who's book Roadside Lights Seasons: Winter is a beautiful tome of photographs of vending machines dotted around Japanese landscapes, ubiquitous in their strangeness and solitude. The book is part of a series and is published by Case Publishing.
Chris Leskovsek's self-published book Not Too Bad is made up of fragments of his life in New Zealand, as he attempts to make sense of a place far from his birth country of Chile.
Sara McIntyre presents her book, Observations of a Rural Nurse (Massey University Press), reflections on her time working in Kākahi, both as a nurse and doing rounds as a photographer.
All timings/benefits offered are subject to change in the event of a Covid-19 outbreak during the key lead in period or during the 2021 Festival dates.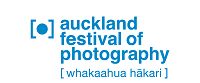 ---
Auckland Photo Day 2021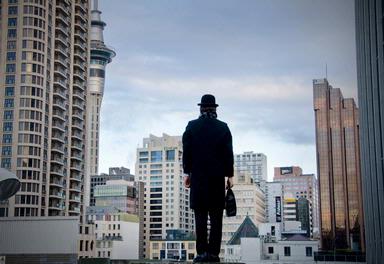 Mitchell Round, It's a New Day (2009).
The Festival Trust is happy to confirm the annual Auckland Photo Day 24 hour challenge will take place on Sat 12 June 2021.
New camera prizes for 1st, 2nd and 3rd place and People's Choice sponsored by Fujifilm NZ, with 3 NEW cash prizes in tandem.
+ $1200 Cash
+ $500 Cash
3rd Prize -

+ $250 Cash
Full terms & conditions announced in late April. Including a special 'Photo Walk' on the day and the People's Choice prize + details on public voting.
---
Late Harvest - Artist Award 2021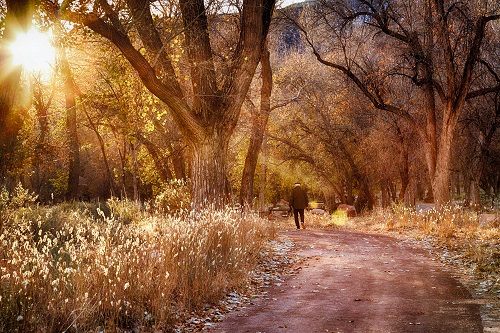 Autumnal Rays – Maryanne Bilham – 2020 Late Harvest Award winner
The 5th annual year's artists Award 2021, with thanks to a great sponsor Wine-searcher.com, . Entries are invited from the hundreds of NZ based photographers taking part in 2021 Festival.
Cash prizes 1st $1500 + 2nd $750. Festival artists can enter existing work or create new work for the 'Late Harvest' theme.
Wine-searcher.com are delighted to support NZ photography at this time. Entries open 16 April 2021.

---
Kuala Lumpur International Photo Awards 2021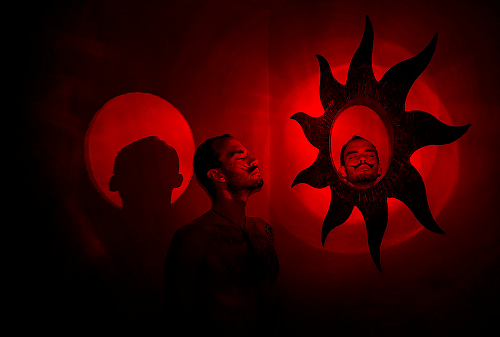 ©Giacomo d'Orlando Italy, KLPA2020
Self Portrait, stuck in Kathmandu during COVID outbreak
KLPA has been rewarding top portrait photographers since its inception in 2009 and is now
calling for submissions to their 13th edition in Single Image Theme and Open categories as well as Project Grants. Deadline for submissions is 30 April. The 2021 theme is Sense of Self.
"How do you define yourself or someone else pictorially? What are the traits and characteristics that make a person who they are? How can you photograph these 'selfs' and make them stand out as an individual in a creative and meaningful way? Portraits can delve deep into a person's psyche and reveal what is superficially masked on the surface."
Celebrating this annual prize contest, rewarding and promoting portrait photography in South East Asia and beyond, Presented exclusively by Auckland Festival of Photography Trust & KPLA, these great Awards will once again participate in the Digital Screens Initiative with a projection of the 2020 winners and finalists, selected by an international jury panel.