Welcome to Festival Zone for the end of our 2019 Festival activities -
Nikon Auckland Photo Day 2019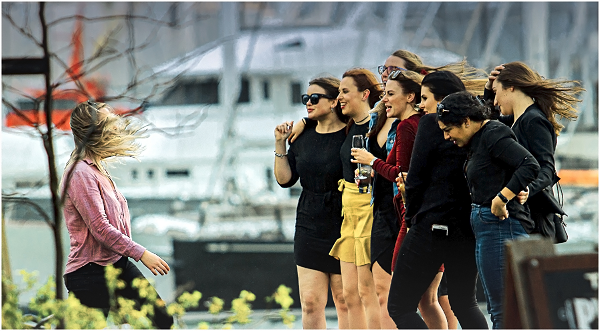 Zhuo Xun Zhong - Happy Young Women in the Wind - You can vote for this!
You Be The Judge - People's Choice
We are delighted to announce the 1st, 2nd and 3rd prize winners and Top 30 finalists for the 2019 Nikon Auckland Photo Day and the 2019 Nikon Moving Image prize. People's Choice early bird voting starts today and closes 5pm on 28th June. One vote per person per photo, please note your extra votes for the same photo will be disqualified. Who do you want to win?
24-hour day in the life of Auckland competition took place on Saturday 8 June and attracted hundreds of photographers – despite tumultuous weather. Since the annual competition began 15 years ago it has created an archive of more than 12,000 unique images of Auckland. This year's competition judges were photographer Qiane Matata-Sipu, video artist Alex Plumb and photographer James K Lowe.
The judges' winners and finalists from this year's competition create a Top 30 which encompass many of the tales of our city – from eerie bus stops and storm flotsam to kids at Warriors games – and our 2019 Top 30 can be seen online today.
"We are so proud of our ongoing relationship with the Auckland Festival of Photography and the Nikon Auckland Photo Day" says Steven Woodman, Marketing Manager, Nikon New Zealand. "Nikon is particularly passionate about enabling photographers to contribute to the New Zealand narrative, and again this year we've been inspired by the unique vision and exploration of possibilities from our Auckland community of creatives"
View our 2019 winners & finalists here.
First Prize -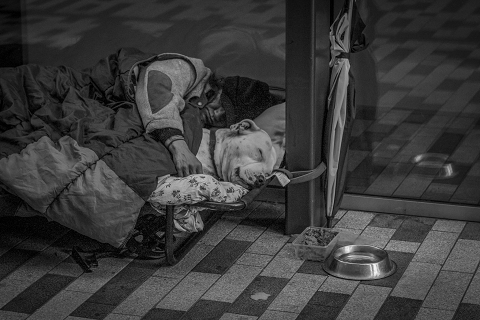 Woman & Dog by Neil Ihaia from North Shore
Congratulations to Neil Ihaia who wins 1st Prize, his prize is a Nikon D5600 Kit
Judges' comment: "The entries to this year's competition were of very high standard and made judging tough. We chose Woman & Dog as the winning photograph as the person's situation is raw and compelling. The photographer documents a powerful, moving moment of love and care, with a sense of citizen journalism. The merit of this image lies in the subject matter that you can't ignore, it is a portrait of Auckland's most vulnerable part of society. "
Neil Ihaia is a motorcyclist who does charity runs, is 60 years old and photography has been a hobby for about five years. "I do a lot of sports, not a lot of portraits. I was in Auckland and it was quite a tricky day to take pictures because of the weather. I was at Aotea Square and saw her there. Because of the way she is laying with her dog, and not many homeless people have dogs, I thought it would make a good photograph."
Second Prize -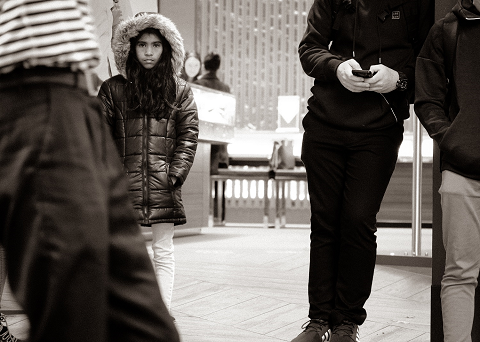 Youth, yet to be entertained, Steve Pettigrew from Mairangi Bay wins 2nd Prize, his prize is a Nikon D3500 Kit
Judges' comment: "This photograph is mysterious and cinematic. The subject's arresting gaze draws us in, it's heavy and haunting. The framing makes you feel uncomfortable because the subject is cut off from the world. It creates a sense of isolation and loneliness. There is a mystery and story to them we want to know more of."

Third Prize -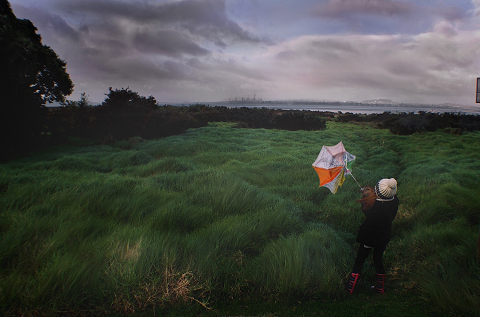 Inside Out by Manon Fleurentin from Henderson wins 3rd prize, her prize is Nikon 1 J5 bundle.
Judges' comment: "This image encapsulates a great moment in time. We like the way the photographer has composed the image, encompassing the wider landscape. They have successfully captured the elements and their consideration of tone and colour elevates the photograph beyond the mundane. The mood it sets really draws the viewer in."
Moving Image prize -
Won by Michelle Vergel de Dios from Glenfield, she gets a Nikon J5 for her 'First Impressions' work.
Judges' comment: "The winning video is an honest reflection about an immigrant's experience in a new environment. It plays with the notions of time and place, and how we arrive at calling somewhere home. A nice reminder of the cultural diversity and all the stories that make up Auckland."
This is the second time that Michelle Vergel de Dios has won this category, having won the 2017 Moving Image prize.
AFP director Julia Durkin says Nikon Auckland Photo Day remains the nation's biggest community shoot on any given day.
"Each year, Nikon Auckland Photo Day invites the community to share their day in our city. We're thrilled with the quality of this year's images, especially given the gale force winds on June 8. We applaud the hundreds of participants for their dedication to sharing their visual conversations of Auckland and are delighted to give our judges' prize winners the top cameras from our partners at Nikon. We invite everyone to be the judge in our People's Choice voting."
Start online voting for the People's Choice category of 2019 Nikon Auckland Photo Day. The winner of the People's Choice category receives the Nikon Coolpix A1000.
The announcement of Nikon Auckland Photo Day winners marks the close of activities for 2019's festival, which featured more than 100 exhibitions and events, including a series of Fissure-themed exhibitions, around 45 Satellite exhibitions across the region, and an extensive Talking Culture public programme. As well as providing a significant cash grant for our Annual Commission and 2 cash prizes for Mazda Award and Alex Mao Award respectively, totalling $13200 to local photographers this year.
---
Exhibitions still open

Davis Kea Wings 2015 by Fiona Pardington - On show at Alberton House, Mt Albert.
Last days for Rebbecca Swan at Whitespace, Melanie Roger gallery's 'Photography' exhibition, Justine Varga & Conor Clarke at Two Rooms, The Passing at The Pah Homestead, Fairshots collective at Auckland Central Library and Fukushima Dolls at Queen's Wharf. Until end June or later is Marie Shannon at Te Uru, Jude Robertson at Corbans, Fiona Pardington at Alberton, Vincent Ward at Trish Clark Gallery.
Full programme of Core & Satellite exhibitons still open see our Calendar