LIGHT
In October 2006 our Festival participation event for your enjoyment with photography was a joint project between AsiaNZ Foundation, the Auckland Festival of Photography and Auckland City Event Promotions for a photo project & exhibition around the Diwali celebrations in mid October. This was not just another Auckland event photo essay but a broader chance to show from across the Auckland region any images of behind the scenes preparations from within the Indian community, as they get ready for their most important celebration of the year in a public-spirited celebration of Indian culture.
The chosen images was part of an exhibition held during the 2007 Festival and some may also be entered to the Auckland Photo Blog - our new online visual diary.
The project was called LIGHT - as Diwali is called the Festival of Lights and photography cannot happen without LIGHT. So from Bhajis to Bollywood, Saris to Singing, get ready for some Creative Exposure.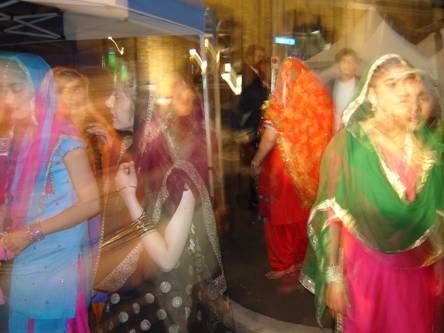 Trick of the Light 2006 (abstract)
Diwali (also called Deepavali) is a major Hindu festival. Known as the "Festival of Lights," it symbolises the victory of good over evil, and lamps are lit as a sign of celebration and hope for mankind. Celebrations focus on lights and lamps, particularly traditional diyas (as illustrated). Fireworks are associated with the festival in some regions of the country.
Deepavali is celebrated for five consecutive days in the Hindu month of Ashwayuja. It usually occurs in October/November, and is one of the most popular and eagerly awaited festivals of India. Hindus, Jains and Sikhs alike regard it as a celebration of life and use the occasion to strengthen family and social relationships. For Jains it is one of the most important festivals, and beginning of the Jain year. It is also a significant festival for the Sikh faith.
© Wikipedia